This TASTY Grasshopper Pie recipe has been in my family for 41 years! My mom has been making this for my dad about this long. Before my parents were engaged, my mom made my dad a gourmet dinner with Grasshopper Pie for dessert, and she thinks it's what sealed the deal! This green dessert would be perfect for St. Patrick's Day! (I will post a better picture in the morning after ours is completely set up – with chocolate curls). I let my momma make this one for us this week while I make a fun new way to serve St. Patrick's Day dinner, tomorrow. Stay tuned for that!
Grasshopper Pie
1 6oz pkg lime Jello (or 2 pkgs 3oz)
4 Tbs sugar
1/8 tsp salt
2 cups boiling water
1 tsp mint extract
1 tsp brandy extract
1 tsp vanilla
1 cup very cold water
Dissolve Jello, sugar, and salt in a large bowl, with the boiling water. Stir in the cold water and extracts and place in refrigerator to thicken slightly.
Chocolate Crumb Crust:
26 oreo cookies, crushed (either whirl in food processor, or crush in a Ziploc bag)
4-5 Tbs melted butter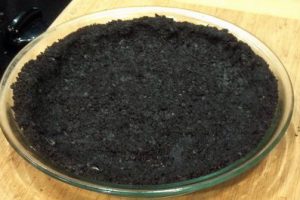 Once the cookies are crushed, add the melted butter and whirl in food processor until butter is well incorporated. Press into a pie pan and refrigerate until firm.
Meringue Mixture:
In a small bowl, beat one egg white until soft peaks form, gradually add 2 Tbs sugar and beat until stiff peaks form.
Blend meringue with 2 cups Cool Whip.
Once the Jello is thickened, remove and set aside ½ cup for later use.
Gradually fold Cool Whip/meringue mixture into the remaining Jello, until well blended and smooth.
Spoon into the chocolate crumb crust, using as much as possible, then drop dollops of the reserved clear Jell-o that was set aside and swirl with a knife.
Chill until firm.
Garnish with chocolate curls, if desired. (Any remaining filling can be chilled in sherbet cups for another meal.)
ENJOY!! I would absolutely love to hear if you give this a try. It is quite a bit of work, but obviously worth the effort!
Grasshopper Pie
2016-02-10 18:31:17
Ingredients
1 6oz pkg lime Jello (or 2 pkgs 3oz)
4 Tbs sugar
1/8 tsp salt
2 cups boiling water
1 tsp mint extract
1 tsp brandy extract
1 tsp vanilla
1 cup very cold water
Crust
27 oreos, crushed
4-5 Tbs melted butter
Meringue
1 egg
2 Tbs sugar
2 cups Cool Whip
Instructions
Dissolve Jello, sugar, and salt in a large bowl, with the boiling water. Stir in the cold water and extracts and place in refrigerator to thicken slightly.
Once the cookies are crushed, add the melted butter and whirl in food processor until butter is well incorporated. Press into a pie pan and refrigerate until firm.
For meringue: In a small bowl, beat one egg white until soft peaks form, gradually add 2 Tbs sugar and beat until stiff peaks form.
Blend meringue with 2 cups Cool Whip.
Once the Jello is thickened, remove and set aside ½ cup for later use.
Gradually fold Cool Whip/meringue mixture into the remaining Jello, until well blended and smooth.
Spoon mixture into the chocolate crumb crust, using as much as possible, then drop dollops of the reserved clear Jell-o that was set aside and swirl with a knife.
Chill until firm.
Garnish with chocolate curls, if desired. (Any remaining filling can be chilled in sherbet cups for another meal.)
Clever Housewife http://cleverhousewife.com/