DIY Gumball Machine
Months ago, when I began my very first Pinterest Challenge, the first nomination was for an adorable DIY Gumball Machine. It didn't get the winning vote for my project of the week, but I have since decided to make it. My sister-in-law was here visiting for two weeks and was feeling the need to craft. I invited her over and we put our heads together, to see if we could come up with something cute, easy and fairly inexpensive. We both remembered this DIY Gumball Machine that has been floating around Pinterest.
There are a several different methods for creating this cute little gumball machine/candy dish, so we kind of winged it. If you're looking for a project to do while the kids are home, I'll link to each of the items on Amazon!
Here is what you will need:
4″ terra cotta saucer + 3″ saucer to go inside of the other – upside down
round glass jar (mine is 3 3/4″ in diameter and found at the dollar store) Here is a 4″ jar on Amazon.
1 1/4″ wooden ball (here are 1.5″ balls on Amazon)
The first thing you need to do is to pick a color for your gumball machine. Once you have your color of spray paint, spray all terra cotta pieces and the ball that goes on top. Let dry completely.
Once paint is dry, apply glue around the entire edge of the 3″ terra cotta saucer. Then place the saucer inside the center of the 4″ saucer, and let sit until dry. Glue will dry clear. You do this so when you place the 4″ saucer on top of the glass jar, it won't shift around as much.
Now that the smaller saucer has been glued into the 4″ saucer, turn it over and glue the ball on top.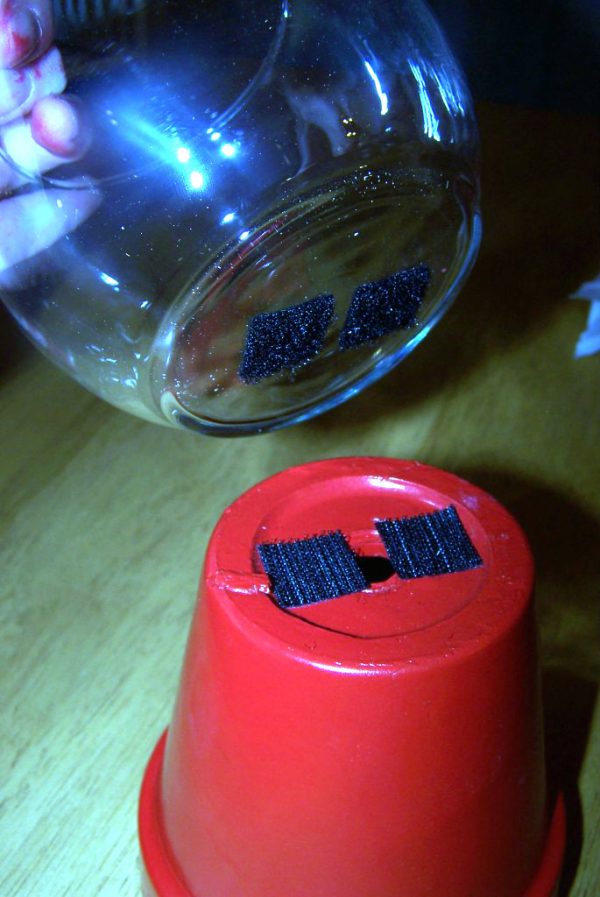 Time to attach your glass bowl on top of the terra cotta pot, which has been turned upside down. My SIL used glue to attach hers and I wanted to try velcro so I could swap out different pots for different seasons. Simply place two sticky backs to the bottom of the bowl and the other pieces on the pot, so they match up. I would go with the glue method if you are afraid of kids handling it too much and breaking it, as the glue is more secure. My jar sits on a shelf and the kids don't ever pick it up.
Fill the bowl full of candy and top with the lid!