This is a Sponsored post written by me on behalf of Vectra flea & tick control for SocialSpark. All opinions are 100% mine.
Can I just say that I adore my little doggy? She has only been a part of my life for about 6 months, but I love her to pieces! I think she is just the cutest little thing with loads of personality. She is quite the snuggle bug too! Now I just need to get all of my kids to respect her personal space!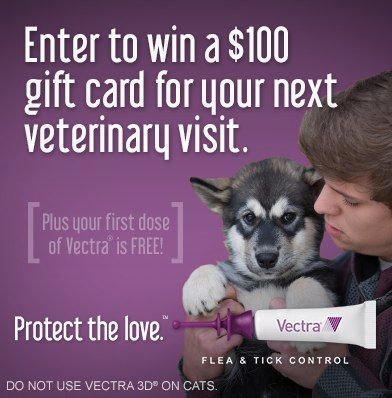 Because Lucy (my pup) truly has become a part of our family, we really do need to take great care of her and keep her healthy and safe. Those of you with pets likely know how important it is to protect them from fleas and ticks. Those little animals can get fleas and ticks quite easily, but I am starting to learn about products out there that can help! When I got my pup, she had fleas and luckily we were able to get rid of them fairly quickly, but that might not always be the case.
I have been getting informed about Vectra flea & tick control. This is a fast-acting and long-lasting protection for your dog or cat. It kills through contact and can actually reduce flea feeding within 5 minutes! Can you believe that? Another aspect of Vectra that I love is that it remains effective after bathing or swimming, and protects for 1 month. This is important to me because my dog needs to be bathed quite often. She doesn't shed much, if at all, which means she starts stinking sooner. I love that there is a product that doesn't need to be reapplied or given after each bath.
You can pick up Vectra for your pet at your vet's office, but you can also head over and enter Vectra's Protect the love Facebook Sweepstakes for a $100 gift card to use at your next veterinarian visit. A gift card will be award each week throughout the sweepstakes. Plus, each entrant to the Protect the love Sweepstakes can also claim a free dose of Vectra flea & tick control. You will be able to print out a coupon for a free dose to redeem at a Vectra veterinarian near you. Simply enter the sweepstakes then visit FirstDoseFree.com and fill out the form for your free dose.
If your pet has struggled with fleas and/or ticks then it couldn't hurt to check this product out right?
To stay up to date on Vectra happenings, follow them on facebook and twitter.
***Protect the love is the official social identity of Vectra flea & tick control. Vectra is a product of Ceva Animal Health , LLC and has multiple formulas for dogs, cats, puppies and kittens. *DO NOT USE VECTRA 3D ON CATS