Bread, glorious bread! Oh how I miss thee! Actually, since I've been going gluten free I have really been okay with it. Granted, it hasn't been all that long going without it. I don't know if there is much that I like more than a freshly baked loaf of bread, still warm from the oven, with melted butter on top. Pair together all of the ingredients in my Peanut Butter Chocolate Chip Banana Bread and Mmmm – my mouth is watering!


I'll take bread just about any way. Sweet breads and non-sweet breads – they're all good to me! Last week, before my elimination of gluten and the other 6 high inflammatory foods, I needed to use up some bananas that were going bad. I don't know any better way to use up those bananas than to make banana bread with them. I didn't want to make your typical run of the mill banana bread and wanted to try something different. If you are looking for a delicious, but basic recipe, then check out my Gourmet Banana Bread recipe. Otherwise, keep on reading…

This banana bread combines the creamy (or crunchy if you prefer) goodness of peanut butter with chocolate and banana. It doesn't disappoint, and everyone was going back for seconds! This recipe makes a large loaf so be prepared with the proper pan, or use a couple of smaller pans.
Peanut Butter Chocolate Chip Banana Bread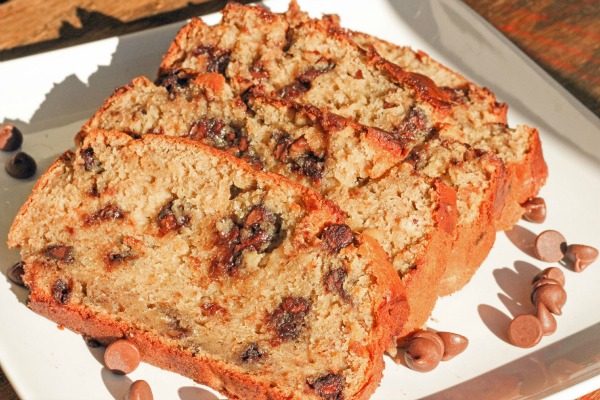 Peanut Butter Chocolate Chip Banana Bread
2020-03-31 20:26:12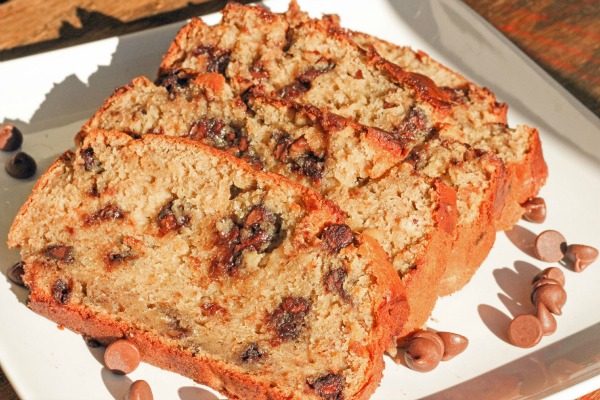 Serves 8
Ingredients
1 1/2 cup all-purpose flour
6 Tbs white sugar
6 Tbs brown sugar, packed
1 tsp baking powder
1/2 tsp baking soda
1/4 tsp salt
4 medium very ripe bananas, mashed
1/2 cup crunchy peanut butter
2 Tbs plain Greek yogurt
1 large egg
2 Tbs canola oil
1 cup cup chocolate chips coated in 1 Tbs flour (I prefer milk chocolate)
Instructions
Preheat oven to 350°. Spray a 9X5" loaf pan with non-stick spray. Then add two strips of Reynolds Parchment Paper, one for each direction of the pan; for easy removal.
In a medium bowl, combine flour, sugar, baking powder, baking soda, and salt.
In a mixing bowl, mix bananas, peanut butter, yogurt, egg, vanilla, and oil. Fold in flour mixture until no streaks of flour remain, then gently fold in chocolate chips. Pour batter in prepared loaf pan and bake 40-50 minutes, or until toothpick comes out clean.
Cool in pan on wire rack 15 minutes before removing using the parchment paper. Allow to cool completely before slicing.
Clever Housewife http://cleverhousewife.com/