This is a Sponsored post written by me on behalf of Scotts Miracle-Gro for SocialSpark. All opinions are 100% mine.
In the past couple of weeks weather has sure heated up, which means more outside time. The kids are playing outside more, and hubby and I are outside doing more yardwork. The best part? My son has started mowing our lawn for us and he's actually big enough to do it all by himself!!!! Oh happy day!
I have been in my current house for a little over a year and the yard seems to be one of those things that is just taking us a while to get it to where we want it to be. The grass is less than desirable, as is the bark in the front yard. I think the plants and most of the trees planted are just fine, and I even have some of my flowers from last year springing up! However, there are times when my trees are not that great, I may need to move or remove them, so I made sure to see the page here to find the best tree removal services. I also consider calling professionals from Alien Tree Service. Let's face it – I'm in Northern California and I have had my flowers for a little while now. No snowy days here!
I always love to look at my parent's yard to take inspiration, because they have a very established and beautiful yard. They just recently took out some large junipers and other plants, got a well pump repair, installed a new fence with the help of a vinyl fence company, and are getting ready to do something new in their yard.
Prepping Your Yard with Mulch and Gardening Supplies
The main thing that my plants and grass need right now is some TLC, so I am trying to arm myself with gardening supplies. The clover and crab grass are driving me batty! A few things that I have needed to start landscaping are: GLOVES, a small shovel, weed & feed, Scotts Nature Scapes Mulch (or Scotts Florida Select Natural Eucalyptus Mulch for you Floridians), and some children and hubby to help me with the yardwork!
In my research, I came across a great product for all of my Florida readers. I surprisingly have quite a few of them. Not to worry though because I have a bit of information for those of you NOT in Florida!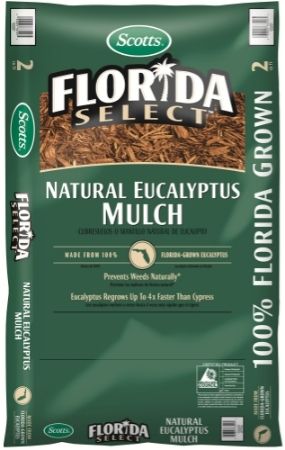 Scotts Florida Select Natural Eucalyptus Mulch is great for Floridians because it is made from 100% Florida-grown Eucalyptus. Eucalytpus is a sustainable Cypress alternative, grown in Florida, for Florida! Here are a few reasons that Eucalyptus mulch is the best for your sustainable gardening and landscape:
Sustainable – it re-grows up to 4 times faster than Cypress!
Natural – free from any construction, demolition, pallet, or other waste materials.
Effective – Prevents weeds naturally by blocking growth and access to sunlight.
So, because I am obviously NOT in Florida, I did some digging to see what I could use and came across Scotts Nature Scapes mulch. This comes in 3 different colors, which is great for those different landscaping tastes: Classic Black, Sierra Red and Deep Forest Brown. They are all natural forest products with no waste wood, and they come in a variety of textures! Scotts mulch helps to maintain moisture, prevent weeds, and create a groomed landscape all year long! I recommend hiring a landscape design Melbourne expert to enhance your property's beauty and appeal.
Additionally, if you live in an area that's prone to storms, you'll want to consider installing artificial turf so you won't have to worry about the look of trampled or damaged grass cramping your style. Look for professional artificial turf installers near me to make sure your turf is properly installed, seamed, and protected from pulling up.
My parent's grow boxes have onions sprouting, and it will be a little while before we start seeing any zucchini, squash, tomatoes, cantaloupe, and more! I simply can't wait to get my yard looking as great as my parent's! We're also looking to add lighting via landscape lighting – Aardvark Electric to add more drama and impact, especially at night.