Every year without any effort or thought, I can count on my plum tree producing an abundance of delicious Santa Rosa Plums. I can almost set my clock by the appearance of my tasty plums. They ripen and are ready to eat right around June 10th! There's nothing more satisfying than walking out to the yard and picking a ripe plum, giving it a little rub on my pants or between my hands and biting into its juicy goodness – with the juice running down my arm. One problem though – there are just too many plums for one family to eat, which is why I've come up with these yummy Breakfast Plum Bars.
Over the years I've had to be ingenious in thinking up ways to use the plums. I don't want any of the bounty to go to waste, so I get creative with its uses. I make jelly and jam; I juice a couple batches in a steam juice extractor for syrup making at holiday time which I give to friends and family; I've made fruit leather; I make plenty of cobblers and I give bags of plums away.
This year, I tried a new recipe. Since the plums are nature's gift, I thought a nutritious snack bar would be a nice change from some of the over processed fruit snack bars you buy in the store. These guys turned out just right, and are perfect for breakfast as a stand alone, or for the kids' midday snack. When my hubs gets up in the morning, the Breakfast Plum Bars are all made and stored in the freezer, for a quick breakfast on-the-go. He always makes sure he takes a few snacks and plenty of water to keep hydrated.
Since we're talking about nature's bounty, we feel like we're stewards of the earth, and must be careful to treat our earth gently. Just as I feel a responsibility to use all my plums, I feel I must help take care of our environment. Boxed Water is one way we've decided to give back and do our part. Boxed Water is much gentler on our environment than plastic.
Enjoy my recipe for Plum Breakfast Bars and have a refreshing carton of Boxed Water for your breakfast-on-the-go.
Yield: 24
Plum Breakfast Bars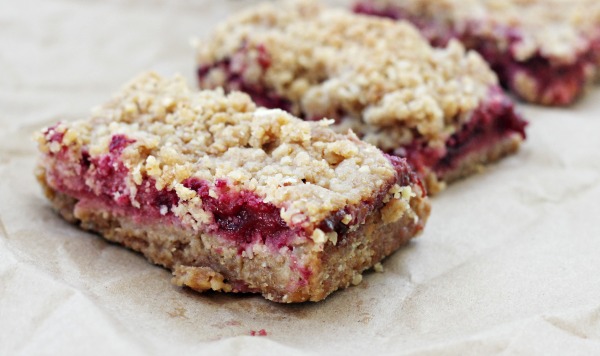 Tart and sweet breakfast bar using fresh plums.
Total Time
1 hour
5 minutes
Ingredients
Crust and topping:
¾ cup melted butter
½ cup chopped nuts (almonds, walnuts or pecans)
1¼ cup flour
1 cup brown sugar
1¼ cup rolled oats
1/2 tsp salt
½ tsp baking powder
½ tsp baking soda
Plum Filling:
2 cups diced plums
1/2 cup sugar
½ tsp cinnamon
1/4 tsp Chinese 5 spice, if you have it
2 Tbs flour
2 Tbs butter, melted and cooled
1 Tbs lemon juice
Instructions
Preheat oven to 350
In food processor, whirl all the crust dry ingredients, including nuts until fine crumbs, then add melted butter and blend until crumbly and clings together.
Reserve about 1 1/2 cups of the crumb mixture and set aside.
Press remaining crumb mixture in to 9 x 13 baking dish.
Bake for 12 - 15 min until edges just begin to brown. Remove from oven and let cool for a few minutes.
Prepare plums while crust is baking, then toss with sugar, cinnamon, 5 spice, flour, lemon juice and melted butter.
Spread over crust, and then crumble reserved crumb mixture evenly over the top.
Bake at 350 for 35 - 40 min, until brown. Let cool, then cut into bars or squares.