Catch a break from the back-to-school craziness and catch a show! Skip the movie theatre this week because ANASTASIA The Musical sings its way into San Francisco and we couldn't be more thrilled. Take the kids and sit back and watch the story of Anastasia Romanov unfold on a stage, full of music, dance and emotion.
Miss Bea and I were in NYC earlier this year and we were really hoping to catch ANASTASIA on Broadway, but were disappointed to find out it was no longer playing. When we got the invite to see ANASTASIA The Musical in San Francisco we jumped at the opportunity! I really do love making a jaunt into the city for a night out with my girl and this time we got to experience the Golden Gate Theatre. All of the other shows we've seen have been at the Orpheum so it was fun to change things up.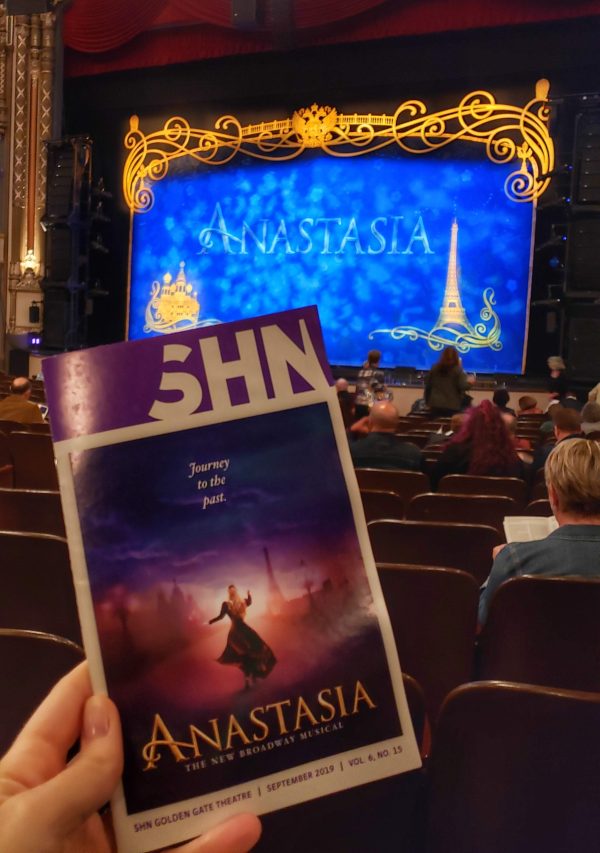 From September 3rd through September 29th, ANASTASIA will be performing their hearts out to all who wish to watch as Anastasia gets separated from her family, and eventually reunited.
I'm always impressed with child actors, but even more with child stage performers. They have a grueling work and they complete it with such incredible talent. The young Anastasia, played by Delilah, was so fun to watch. While she didn't have a large role, we were impressed with her ballet! I loved catching a glimpse of Bea's delight and wonder as she watched a girl of similar age carry out her dreams. It's never too young to dream big and work hard and the entire ANASTASIA cast proves that.
For me, I really loved the second half of the show as it was definitely the more comedic and lively half. The Countess and Vlad were absolutely hilarious in their scenes together. Aside from the incredible vocals, the most impressive things about ANASTASIA were the costumes and the special effects. The costumes were stunning – from the streets in Russia to the dazzling ballgowns in the palace. I couldn't take my eyes off Anastasia's dress at the end of the show.
The special effects weren't like those in any theatre production I've seen. Sets didn't change very much between scenes, but they projected very beautiful and lifelike images into backdrops. I was in awe of every new scene they set up with these images. Some of them were even in motion, to give the appearance of a train car on stage moving through the scenes set behind it.
Lastly, I have to call out the extremely talented dancers. There is a ballet scene that took our breaths away and made us feel like we were at the ballet. The ballerina was dancing on point and the males were all so talented as well.
While you have time, do go and check out ANASTASIA at the Golden Gate Theatre. It's sure to be a fun night out!