This post was sponsored by King's Hawaiian as part of an Influencer Activation for Influence Central and all opinions expressed in my post are my own. We're celebrating Halloween in fashion and ease with a No-Bake Vampire Halloween Trifle. Read on to find out how easy it is to make!
No-Bake Vampire Halloween Trifle
Preparing for Halloween has been interesting this year, and unlike any other year. Between surgery recovery and bathroom renovation our Halloween decorating and festivities got off to a late start. Then came all the public safety power shut-offs that the power company has been doing here in California. There was no way Bea and I were going to let any of this craziness stop us from celebrating Halloween with a little Hallowaiian fun with this No-Bake Vampire Halloween Trifle.
With only an extension cord to our refrigerator and another to a power strip for charging phones, I had to get creative for a fun Halloween treat. I think I hit this one out of the park, but really, how can you go wrong when making anything involving King's Hawaiian rolls? My family loves these rolls any way they can get them! I was tasked to make a Halloween sweet using King's Hawaiian rolls, which was new to me because I've only made savory dishes with them. However, with the unique sweetness King's Hawaiian rolls provide I knew they would easily work for sweet or savory dishes.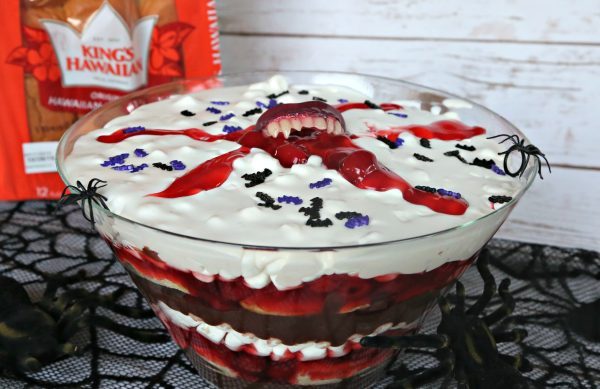 I'm happy to report my little No-Bake Vampire Halloween Trifle experiment was a success. During our weekend power outage I invited over the neighbors to help us eat up this yummy Hallowaiian treat (don't you love the fun play on words?). The kids and adults all loved the layers of yumminess.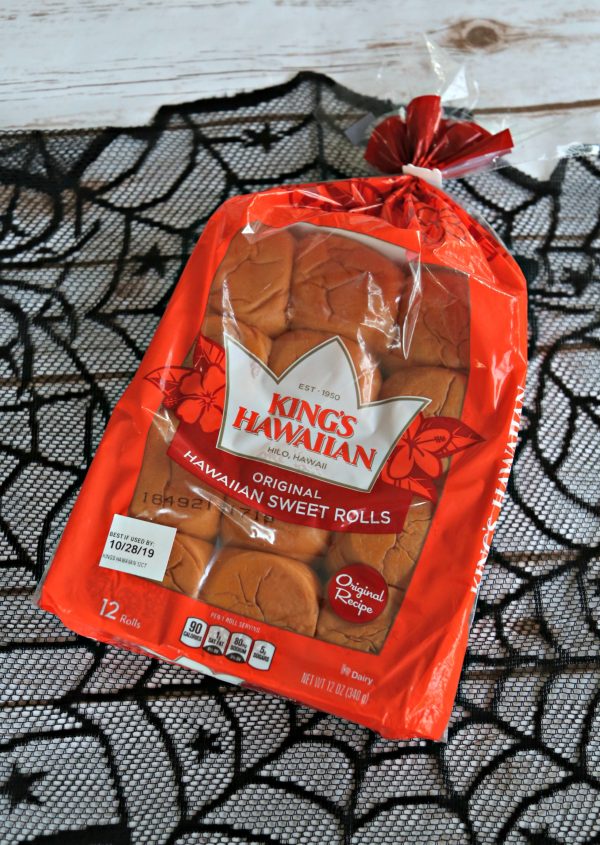 If you're worried how King's Hawaiian Rolls would taste in a dessert trifle, just think of it as a swap for angel food cake. It works perfectly and will even soften as you leave the trifle in the refrigerator, allowing all the flavors to soak into the bread. Keith says it tastes even better the next day! Whether you're adding these rolls to an exciting Halloween trifle or turning them into spooky sliders, they're sure to be delicious. King's Hawaiian doesn't just offer rolls so keep an eye out for the other bread varieties to make every mealtime a treat!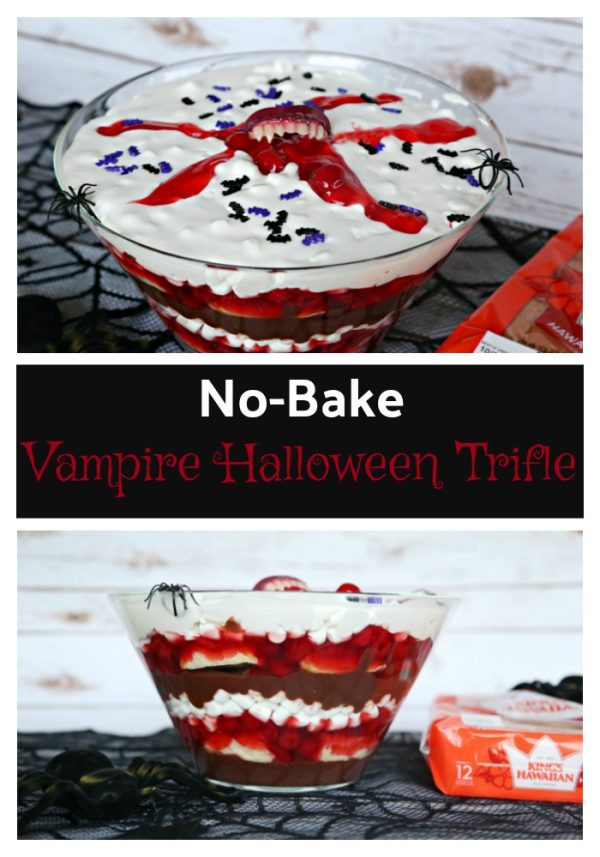 Now for those yummy layers …
Yield: 12 Servings
No-Bake Vampire Halloween Trifle
Delicious layers of puddings, breads and treats to make a spooky trifle.
Ingredients
12-pack King's Hawaiian Rolls
1 Lg package of instant chocolate pudding
3 cups milk
1 can cherry pie filling
2 cups miniature marshmallows
8 oz whipped topping
Bat sprinkles (optional)
Fangs
Instructions
Prepare chocolate pudding according to package instructions. The correct size should call for 3 cups of milk and set within 5 minutes.
Cover the bottom of your trifle dish with half of the prepared pudding (less if your bowl gets gradually bigger like mine).
Slice King's Hawaiian Rolls in half and layer the bottom half on top of the layer of pudding.
Add just under half the cherry pie filling to the top of the rolls.
Next add marshmallows and repeat all of the layers, reserving just a tad of cherry pie filling.
Finish off the top with the whipped topping and a drizzle (or drops) of the remaining cherry pie filling. Add bat sprinkles if desired, and fake vampire fangs.
Serve immediately or refrigerate.n
Notes
The amount of food in each layer will vary depending on the size and shape of your trifle dish. My layers got bigger as the bowl got wider.