This post is sponsored by BabbleBoxx.com. All opinions expressed are my own. Now for 6 gift ideas for men:
Tis the season to be thinking of that perfect gift for those you love. This week is peak shopping week and we can't have you going into it without a clue of what to get for that special man in your life! Shopping for Keith can be especially tricky because he often gets what he needs. If you have a man who struggles just as much as mine to come up with ideas then these 6 gift ideas for men really can't be beat. There's something for every type of man.

6 Gift Ideas for Men
G-SHOCK Adrenalin Red Series GA700AR-1A Watch from Casio
This G-SHOCK Watch has everything needed in a men's watch: shock resistance, 200M water resistance, a super LED Light and of course all the regular things like time, alarms and timers. Whether your man is into athletics and physical labor or fashion and style, this beauty sports a durable black band and metallic red 3D dial and hands to fit every lifestyle.
Shoes from Samuel Hubbard
While Samuel Hubbard has so many stylish shoes to choose from, one thing is for certain and that's comfortable men's shoes. Keith got the Uptown Maverick boots and he couldn't be more in love with a pair of shoes. He wears boots on the daily for work, but it's nice to have a pair he can be proud to wear out for date night, church and work if I'd let him! Talk about a beautiful pair of boots made of hand antiqued leather. Because comfort is so important to the boot wearer, the Uptown Maverick has Custom Vibram® soles for all day support, triple-density foam insoles and full glove-leather lining to eliminate pressure points and feel buttery soft. A feature we both love is the time-saving zipper! Boot wearers know what I'm talking about.
Engraved Bamboo Wine Tool Set & Personalized Wine Bottle from GiftTree
Wine gifting is very popular among wine lovers so why not do it in style? One thing I've learned over the years is how much personalized business gifts mean. My lender is so good at giving the perfect personalized gift, and wine is one of her go-to's. GiftTree offers personalized wine bottles filled with a lush California red blend with aromas of black cherry and vanilla. They'll personalize with any message and theme of your choosing. To top off the gift, or as a separate gift entirely is an engraved bamboo wine tool set. The bamboo box comes with your chosen initials and is filled with a stainless-steel corkscrew and stopper with bamboo accents.
Assorted Eyewear from Zenni
It's no secret my hubs is getting older. Okay, we all are, and with that our eyesight is starting to go. We both need glasses for different things and stylish eyewear definitely helps make that transition easier. Zenni has so many fashion-forward glasses to choose from, like these Bridgeless Round Glasses with a modern brow bar. No matter the style you choose, each pair of Zenni glasses has spring hinges and adjustable nose pads for that perfect fit. Just upload your specific prescription or opt for tinted lenses, and pick your frames.
Blister Blocker SPORT & Deodorizer from Solemates
For a practical and extremely helpful gift, make a bag of goodies from Solemates. Be sure to include the Blister Blocker SPORT and deodorizer. The Blister Blocker SPORT is a must for those who run, hike or do any intense activities. For blister prevention it doesn't get much better because this contains a long lasting natural formula that's non-greasy and fragrance free. You can even use it on other parts of the body where friction may occur. For the Solemates deodorizer, you better believe this will be shared with our teenage boys. This is also made of a natural formulation (in a solar powered factory to boot). The deodorizer eliminates Bacteria, which is key, plus it's baby powder scented! I'm thinking this should go in every man's gym bag and closet! Use code Babble20 to save 20% on the entire Solemates website through 12/21.

HOW THINGS WORK: The Inner Life of Everyday Machines
Last, but certainly not least is a book I know my man is going to love! I'm saving this one for Christmas so I can have at least one surprise on Keith. He loves learning how things work, which is exactly what this book teaches in a fun and entertaining way. HOW THINGS WORK: The Inner Life of Everyday Machines by Theodore Gray is really for all ages with its gorgeous photos and engaging stories and real-time experiments with the inner workings of machines, big and small. Talk about the perfect gift book for the science-minded, or those who just love to learn! It is after all a bestseller for a reason!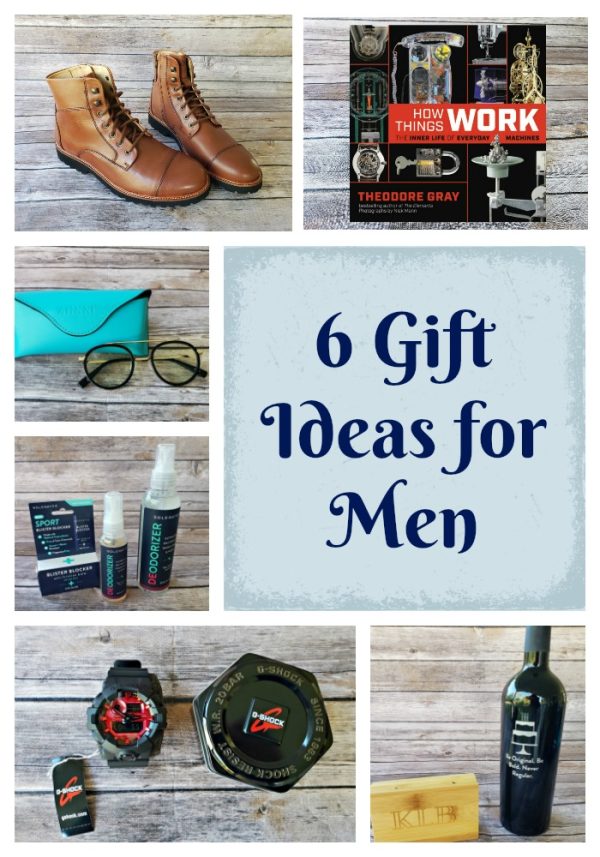 I hope you've enjoyed these 6 gift ideas for men as much as we have! Keith is already enjoying most of these items because Christmas came early for him with this Babbleboxx! One of you may be enjoying some of these awesome gifts sooner than later. Enter to win your own Trends for Men gift box. Here are the giveaways details:
One (1) Grand Prize Winner will receive – Zenni Eyewear, GiftTree Wine Bottle & Tool Set, G-SHOCK Watch, Solemates Blister Blocker Sport & Deodorizer. You have until the end of 11/25 to enter so get on it and good luck!
BabbleBoxx will randomly select winners from all program entries and will be responsible for fulfillment of prizes to the winner.