Stuck with not knowing how to decorate when there's no holiday? I'm showing several ways of using family memories in home decor, no matter the season. The how-to is where you can get creative and have fun using family memories in home décor.
People have various opinions on how and where family photos can be shown. Some people prefer to keep personal pictures out of public areas such as the living room or kitchen, and will just display them just in bedrooms and upstairs hallways. Others want to have their treasured memories displayed in any room of the home for a more personal touch. Regardless of your view, we will show you the perfect way to decorate your house with your pictures and memories.
Using Family Memories in Home Decor
Gallery Wall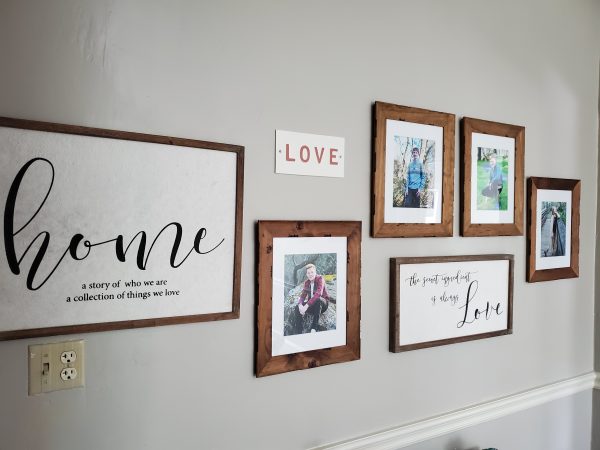 Rather than placing one or two photos side-by-side on the wall, try out a gallery wall. Choose a wall with a good amount of space for a picture gallery.
Gallery walls work well above the sofa, staircase or hallway, in any bedroom, or the entryway to greet your guests. Have fun playing with the layout to add beauty with a playful collage of photos.
Shadow Boxes
Try your hand at placing several keepsakes in one frame with a shadow box. Shadow boxes are like a scrapbook page for the wall so what better way to display family memories in home decor than with these? Place several items and/or photos from any trip or ancestor and display them in one shadow box. You can also display single keepsakes such as this blessing gown of my grandma's, and the shadow box helps preserve its quality.
Hot glue works well on fabrics, wood, or heavy materials, whereas the dual-sided adhesive is fine enough for paper and lightweight objects. We recommend fabric tacks to ensure any cloth remains secure and for usage in the future if needed.
Make sure your wall and whatever anchors/screws you use are sturdy enough to hold the weight of your shadow box. You can also display the box on a shelf with other photos.
Showcase Coffee Tables
If you have a cool looking coffee table like the one Keith just built me, you may want to draw attention to it by creating a display on top. Or you can DIY an old coffee table and make the top BE your display.
You can epoxy photos directly on the surface of the table or have custom-made glass to go over the top. Your coffee table could be the shadow box without the worry of anchoring to the wall.
Use Travel Boxes
To preserve your memories all while not displaying them for everyone to see, travel boxes are great for storage and add their own touch of style. These decorating boxes will arrange and store your cherished memories while contributing to your own home decor.
Pick an empty box from an arts and crafts store or try a little antique shopping. Find boxes to suit your taste and personal style. The boxes can be showcased just about anywhere in your house! Set them beside a sofa table, in the entryway or use them as an end table!
Memory Jars
Bottles of different shapes, colors and sizes can be used to store memories. You can create a mini scene to represent beach getaways, family reunions and marriages. Think of it like a terrarium for your memories. Build your memory jar by picking the bottle first; it fits really well with masons, apothecary, or other glass containers.
While preparing to position objects, first attach heavy things so that they fit at the edge, then finish with lightweight products, including pictures. As you can see through the glass, think of how the display appears from every perspective. Attach a label to your jar as a final step, to mark the date and location of your memory.
Display Achievements/Awards
Photos are not the only way to decorate your house with your family memories. You can also use prizes, trophies and awards earned by individuals within your family.
If it's a plaque you have, you can add that to your gallery wall. Trophies can be added into your mantel display or on bookcases.
Wherever you choose to display your memories, make sure your style is reflected. I'd love to hear any other ideas you have using family memories in home decor! You can incorporate your memories in your home via customization.