Read all about my Farmhouse Bathroom Makeover on SheBuysHeBuilds.com. This post is in partnership with Pfister Faucets.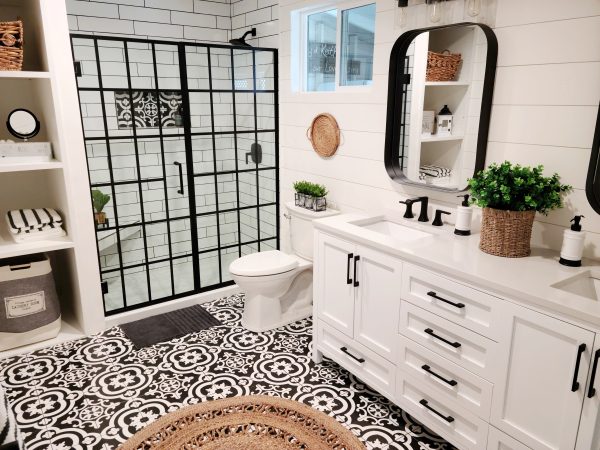 Home projects are on the rise so we've taken advantage of the extra time at home and finally remodeled out last bathroom.
We used some of our pandemic togetherness to finally revamp our quirky bathroom. What was originally a two-room washroom/toilet room and separate shower space is now a gorgeous open farmhouse bathroom. I've gotta say, I think we just keep getting better with each bathroom remodeling project.
Before Photos
Originally you'd walk through a door into a little hallway. Through a pocket door to the right was the toilet and washroom. Straight ahead was another door, which housed the shower. Each space felt small and cramped and frankly the hallway seemed like a waste of space. Sure it was nice to be able to use the shower and still have a bathroom available for guests, but my oldest is the only one who showers in this room anyway. He's a morning guy and showers first thing anyhow, so it hasn't been a problem sharing the space so we thought about a few ideas for some extra space for our bathroom remodeling project.
Farmhouse Bathroom
I went with a farmhouse vibe to match the rest of my home. We used a lot of shiplap and bright white for the bathroom and it feels so crisp. I chose a patterned ceramic tile in black and white, which I've been dying to use in at least one of my bathrooms. We encountered some cracking issues, but I think we got to the bottom of it.
Now for the most functional parts of the bathroom – the fixtures! To contrast all of the bright white, what better than matte black fixtures. I went for a seamless look throughout the entire bathroom by using the Pfister Faucets Penn Collection for the faucets, towel holders, robe hooks and shower head. That's right – Pfister Faucets has matching accessories and they all go great in this farmhouse bathroom.
Shower Faucet
The Penn collection 1-Handle Tub & Shower Faucet in matte black was the perfect choice for this black and whit bathroom. What's great about this kit is that you can use it with or without a tub. This collection features strong lines with soft curvatures for a soft modern design. We're loving the rain spray for more coverage and it was super easy to install. Whether you're installing a new shower or swapping out your fixtures, you'll want to make sure you use a Pfister valve, but fortunately this kit comes with everything you need. With the Pforever Seal™—advanced ceramic disc valve technology there is a never leak guarantee!
Sink Faucets
To match the shower, we went with the Penn 2-Handle 8″ Widespread Bathroom Faucet. In addition to the clean lines gorgeous faucet you can't beat some of its features. Pfister Faucets Penn collection include TiteSeal™ Mounting Technology that eliminates the need for putty or silicone and simplifies installation. Our last faucet and drain in this bathroom was a bit of a mess and needed an update. The drain never worked right, resulting in frequently having to remove it so I was so happy to learn about the Pfister Push & Seal™ drain. This beauty requires no tools and installs in less than half the time of a standard pop-up drain. Even better is the guaranteed tight seal each and every use. Each of the faucets feature spot defense, which makes keeping them clean so much easier! Spot Defense provide extra protection to help prevent the daily buildup of fingerprints and water spots.
Accessories
Towel Ring
Paper Holder
Robe Hooks
The Penn collection by Pfister Faucets has all the accessories to match the faucets and trim, which makes me super happy. I love the sleek flat sides and slim profile of this entire collection. The Penn towel ring looks great next to my faucets and fits my towels perfectly.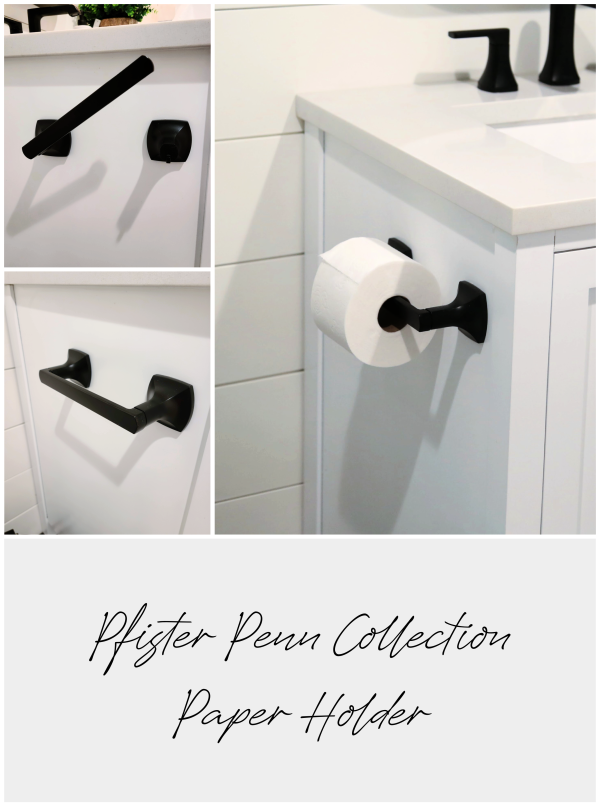 Holding the toilet paper is a necessity in the bathroom, so why not do it with some style? The rod that holds the roll with the Penn Paper Holder just pops up for easy access to slide the toilet paper right on. Then push it down to simply lock it back into place.
I started out with two robe hooks but I just might have to add a third so I can have one right by the shower. I love how these look and that my towels don't slip right off like with some hooks. This bathroom has a long wall that I've adorned with some simple tin decor accented by the 2 Penn robe hooks. My white and charcoal gray striped towels hang perfectly from these hooks and they dress up this wall so well.
All in all, I just love the matte black fixtures and trim from the Pfister Faucets Penn Collection against all of my bright white woods and tiles. To me this style just screams farmhouse bathroom! In addition to all of the black and white, I threw in some greenery, tin and jute/natural fibers and I couldn't love this bathroom more!
Be sure to check out my Farmhouse Chic Master Bath, for more inspiration.