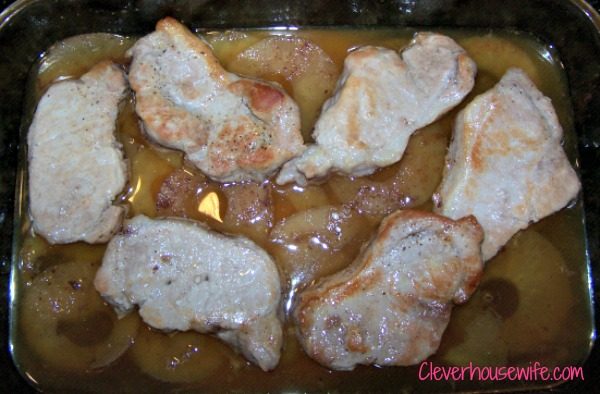 Every Thursday I will be posting a thrifty recipe that uses groceries from the current week's sales. I will also do a breakdown of costs and where to purchase the items. Some of the smaller items will be items most people have on hand.
This week's Valentine recipe is Baked Pork Chops with Apples
Ingredients:
6 Boneless Pork Chops – purchased at Bel Air (or other Nob Hill stores) for $1.88/lb; Total for 6 = $4.10
3 Large Apples – purchased at Bel Air for $.88/lb; Total for 3 = $1.60
¼ cup brown sugar, packed – on hand item
½ tsp ground cinnamon – on hand
2 Tbs butter – on hand
salt and pepper to taste
½ cup Cranberry Juice – purchase at Walgreens for $2.50 – $1/1 coupon HERE; Total = $1.50
Sear pork chops, 2 minutes per side. Reserve.
Preheat oven to 350 degrees F.
Arrange apple slices in the bottom of a prepared 9×13 baking dish. Sprinkle with brown sugar and cinnamon. Dot with butter.
Top apples with seared pork chops. Season with salt and pepper to taste.
Pour cranberry juice over all and cover.
Bake for 1 hour (or until tender). Make sure pork reaches an internal temperature of 160 degrees F.
This was a super easy recipe and cost less than $7.20 (since you have almost a full container of juice left, or for drinking) for 6 adult portions. Enjoy!