Father's Day Bow Tie Candy Craft

Many of you have probably been seeing Father's Day crafts around, and I wanted to come up with something a little different. My mom works with the young children at church, and she was put in charge of coming up with a Father's Day craft. There is a song we sing for Father's Day, called "Daddy's Homecoming" by Frances K. Taylor. My mom came up with the perfect craft to go along with the song, or just to be given by itself.
The lyrics go like this:
I'm so glad when daddy comes home, Glad as I can be;
Clap my hands and shout for joy, Then climb upon his knee,
Put my arms around his neck, Hug him tight like this,
Pat his cheek, then give him what? A great big kiss.
The craft that we will be making is a bow tie out of Hershey's "hugs & kisses".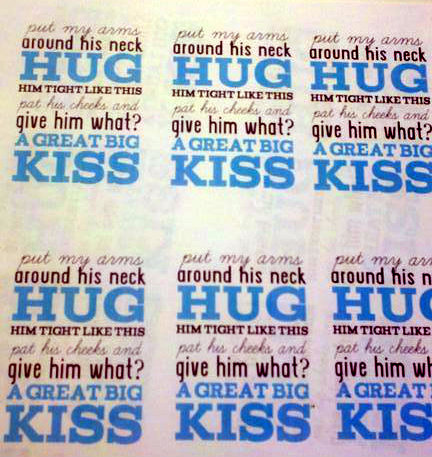 First, print out the tags, to attach to your bowtie. These are courtesy of My Sister's Suitcase.
You can print your tag on cardstock, or get a cute piece of cardstock to glue it to. We had a cute bubbly brown cardstock that we cut out, slightly bigger than the tags, and glued it to them.
Punch a hole in the upper corner of your tag, for attaching to the bowtie.
Cut out a bow tie, big enough to cover a snack size ziploc bag. You can print mine to give you an idea of size, or just eyeball it. After you tie your ziploc baggie, hold it up to the printed bowtie, and adjust accordingly by cutting larger or smaller. Then let the kids decorate the bowtie however they'd like.
Fill a snack size ziploc bag with Hershey's Hugs & Kisses. Place the Hugs in one side of the bag and the Kisses in the other side of the bag. Then wrap a piece of twine or ribbon around the center of the baggie, right between the two kinds of Hershey's. Wrap the twin snugly and tie in a knot, in the back. Be sure the ends of the twine are long enough to attach the bowtie piece and tag.
Punch two holes in the center of your bow tie, and place on top of the bag of chocolates. Bring your twine pieces from tying the baggie, up through the two holes on the bowtie.
Place your tag on top of the bowtie and bring one end of the twine through the punched hole on the tag. Tie and you're finished! If you want to add an extra step, you can staple or attach a piece of elastic to the sides of the bowtie, and let dad wear it!
Related articles