It's about time I finish up my story of infant loss, with the birth and death of my baby girl. To tell you the truth, it's not really a story that ever ends. Once a mother loses a child, that loss will always stay with her. The pain lessens over time, but that baby is and always will be mine – and so will the memories. If you haven't already, I want to invite you to start at the beginning of my story, with my post: Finding Out There Is Something Wrong With My Baby. From the first post, you can be led to the following posts, without having to hunt for them. If you continue reading this post, I want to warn you that there are some heart wrenching photos.
If you have experienced the loss of a loved one, and especially a child; know that you are not alone. I hope that by talking and expressing what I have gone through, I can bring some sort of strength to others who may be in a very alone and dark place right now. Times do get easier, and healing can take place.
Now for the birth and death of my baby girl. My last post talked about going in for my emergency c-section, but I ran out of time and room to talk about the outcome. I went into the OR with my parents by my side, while my husband raced down to the hospital, which was 45 minutes away. He didn't make it in time for the birth of our baby girl, but it worked out okay. Had it been the only time we got to see our baby, he surely would have been devastated, but this is not the end of the story.
I mentioned that the anesthesia made me quite shaky. I waited on pins and needles, with my arms strapped down to the table, as helpless as a mother can be. I went into the OR with my little girl's heart beating, but erratic, and her life was now in the hands of the Lord and the doctors. With the blue sheet drawn up at my belly, I felt like I was in the dark. I was numb to the physical pain of the cutting, and it seemed like eternity from the time the surgery began, to the time they delivered my baby. We weren't given many updates along the way either. I wondered and wondered if my baby would cry as soon as she hit the air. The time came where I got to find out. I recall asking in a very panicked voice, whether or not my baby was breathing. Soon after, the doctor lifted my little girl up in the air for me to see her, as they do with all babies before cleaning them up. I got to see my precious little darling for the first time – all blue faced, eyes closed, and not a peep out of her. They let me get a good look at her, and then they rushed her out into the hall where a slew  of nurses and doctors waited for her. In that brief moment that I got to see my baby girl, I studied her as carefully as I possibly could.  I looked her over to see if she had the deformities that the doctors thought she would have. Well – she did. I didn't care one bit – I just wanted her to live. My parents left me to go keep an eye on my new, and first baby girl. I felt so empty and alone in that moment, with the knowledge that my baby was not breathing, and may not ever breathe.
Doctors stitched me up, and I just waited and waited for any updates that would come my way. A sweet nurse came to me and informed me that the doctors were working very hard on my baby, and that she was in good hands. My mom came in a couple of times to update me, but I don't recall a lot of the accounts. My mom has said to me over and over again that as she stood in that hallway, watching doctors working so hard and forcefully with my little girl, that she remembers a nurse standing behind her, comforting her. She didn't recognize the nurse as one from the OR, or anywhere else. Sometimes she wonders if she was an angel, sent to comfort my parents in those moments. While I was in the OR still very afraid for my child's life, my mom and dad were in the hallway, watching and waiting for some hope, with prayers in their hearts that they would not have to come into the OR and tell me that my baby was dead.
The hospital where I delivered had a huge NICU with fantastic doctors. The NICU doctor was quite frustrated while working on my baby girl because the oxygen hose that he wanted to intubate her with was too large. My mom says he got mad and demanded a smaller one, and fast. We could tell that that doctor wanted nothing more than to get my baby breathing, which was a huge comfort to me. Well guess what, the doctor got my little one intubated, and she started to get some color back into her face, and little body. My mom rushed into the OR to let me know of the good news. With as many problems as my little one was facing, she was not dead – and that is all I cared about in this moment.
I was wheeled into recovery, where the room was dark and quiet. I was often left alone because my parents, nurses and doctors were all with my baby. I struggled with the ability to breathe and was very nervous that I might choke to death. I think it was a combination of the anesthesia and angst, and trauma that I had just experienced. I tried to call out for a nurse, but the sound would not come. When my mom came back into the room, I let her know that I was afraid of not being able to breathe, so she made sure that someone stayed in the room with me for a while, until I felt a little better. I still wanted constant updates though.
When I started to get feeling back into my legs, they wheeled me into the NICU to see my baby. My husband arrived, and we got to go and see her. We decided to name our little one Gianna Rae Lyon. The name Gianna means "God is gracious". Throughout all of the difficulties in my pregnancy with Gianna, I knew that I personally would not be able to handle delivering my baby in pieces. That was one of the fears of my pregnancy. God was gracious and granted me the gift of a living birth. Gianna weighed in at only 2 lbs 7 oz, and she really was not a fighter. She was an angelic little creature. From the bed I was wheeled in on, I peered over and got a glimpse of my precious little girl. She had tubes all over her, but she peeked one little eye open, and almost looked as if she was looking right at me. I reached out and tried to touch her hand. I wasn't allowed much time there, and was wheeled into my room.
I couldn't wait until the nurses and doctors would let me get up and either walk or take a wheel chair into the NICU to see Gianna. I didn't care about recovering from c-section or any possible associated pain. I just wanted to see my baby – whatever it took. Gianna was born on a Thursday afternoon, and by that night, I was already down to see her via wheel chair. I went again in the middle of the night, when I couldn't sleep. I remember on my first visit, my mom being with me, and I just wanted to at least touch Gianna. My mom had tears in her eyes and started stroking Gianna. We weren't allowed to hold her because she was so fragile. She was hooked up to machines, and those machines just kept beeping. My mom tried stroking Gianna's little legs, arms and head. The machines started to beep even more, and I just remember feeling so anxious. I was so afraid that my baby was dying. The nurses ran over and informed us that a lot of physical touch was too hard on Gianna's system. The touch over stimulated her, so we needed to have slow, firm contact. They said that it would be best if we kind of cradled her with our hands. Place one hand firmly on her head and the other firmly on her feet – kind of curling her up, as if she was in the womb. This, and resting a finger on Gianna's tiny clenched hands was the only way we could touch her. I was going to take it though!
Now that I got a good look at my little girl, I noticed that her legs and feet were misshapen. Gianna did indeed have rocker bottom feet, where the feet are almost reversed and turned out. Her feet arches were as if backwards. They were so absolutely tiny and precious though. Gianna's ears were a tad low on her head. Her hands were in fact clenched – one, more than the other. Gianna did have a dropped kidney, and still the problems with her heart and brain. We still didn't know the extent of all of her problems, but for now – the doctors just wanted to concentrate on getting her lungs stronger. Even though she had steroids to help her with her lungs, her 30 week old body was still too weak. I think this was mostly attributed to all of her difficulties, with her frail little body.
Back in my room, all I could do was pray and try my hardest to pump milk and colostrum, so my little girl would have it when she was ready. Since this was all I could do to help her, I was going to try my hardest. I think I sat in my bed with pump in hand, just crying because nothing would come. Any tid bit of colostrum I could get, I made the nurses save. They were very supportive, but also wanted to make sure I got the rest I needed. I wasn't so concerned with rest, and really couldn't sleep well. I remember turning down pain meds because I didn't want it to get in the milk, and I didn't want to be knocked out. I was worried that any meds would depress my baby's system even more. I wanted to be awake so I could rush to the NICU if the time called for it.
I really don't think I slept much at all for about 2 days. On day 2, I was very fortunate to have the bishop from our church drive down to the hospital so that we could give our precious little girl a name and a blessing. This was so important to me, and it can't be done unless the baby is alive. I had, and still have, the belief that Gianna would be mine forever, regardless of the outcome, but being able to have her blessed and have her name on the records of the church, meant a lot to me. All along the way, I felt God's tender mercies, helping to buoy me up.
In the middle of the night, on the second night, I walked myself down to the NICU. For the first time, I felt like I was given a little bit of alone time with my baby girl. I stood over her and held her hand. I was starting to get familiar with the numbers on the machines, and what they meant. I knew that the higher the numbers were, the worse things were. As I held Gianna's hand and talked to her, her numbers all started to lower. The nurses at that time, came over and said to one another that Gianna must have known her mommy was there. I got my moment with her, and it meant everything to me – and still does. I wanted to know that my little one would at least know her momma, for however short the time may have been.
In the morning, my brother gave me a call to let me know what the doctors weren't telling me. You see, my brother is a doctor. He called my mom to have her talk to me, but he was afraid my mom wouldn't have the strength to do it. So he called me up, and let me know that Gianna's numbers were way too high and that she would have a difficult time bringing them down. He and Gianna's doctor told me that she wasn't much of a fighter. After hearing what my brother had to say, I knew what I had to do. Had I not had my moment of peace and tenderness with my baby the night before, I don't know if I would have been prepared to end her life. No parent should have to decide to end their child's life, but sometimes it is a choice we have to make.
I felt like I was able to connect with my little girl, which truly was one of God's tender mercies, and I felt that by prolonging Gianna's life, would have been wrong. They were having to pump her full of pain medicine and all sorts of drugs, to keep her comfortable. I didn't want Gianna to be in pain, and I just knew that God had a plan for her, and that she was going to be one amazing angel – doing the Lord's work, on the other side.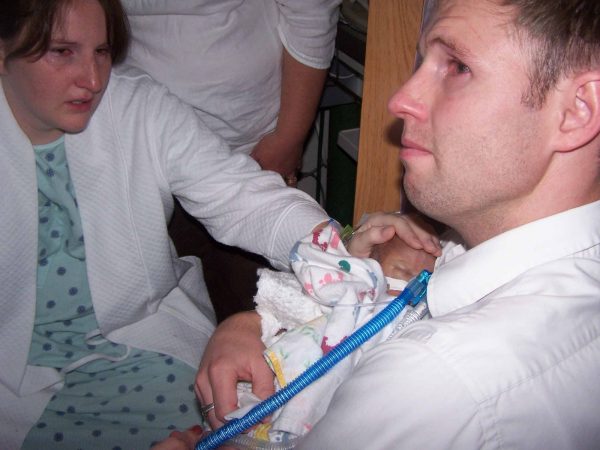 My husband and I walked together to the NICU, with my parents not far behind. I told the nurses that it was time. It was time to unplug the machines and hold our baby. They took the pads and monitors off of Gianna first, and let us hold her while they took out the oxygen tube. All puffy eyed from the fluid they pumped her with, Gianna seemed as peaceful as could be. We were broken hearted that our time with Gianna was so short, but felt so very blessed to have had her. After the oxygen tube was removed, we were led to a special room where we could spend a little time, as a family, with our baby girl. She had a little tape residue from where the tubes were held into her mouth, but she was perfect to me. Her heart was still beating for now, and nurses kept coming in every so often to check for Gianna's last heart beat.
Let me just tell you that that room was filled with so much love. I was devastated, but felt full of hope with the knowledge that I would get to see Gianna again. It is my belief that the babies we have, are ours forever. I truly believe we will be reunited with our loved ones, and that it will be a glorious day. I knew that this particular day would not be Gianna's last. It may have been her last day in this physically handicapped body, but her spirit would continue. She is one perfect angel, and this body would have just held her back from all that she was meant for. I knew this – and it brought me great peace. The nurses informed us that they had a grief counselor that we could talk to, but we refused it. I overheard the nurses and counselor talking to one another, and being impressed that our family seemed to have things under control. People have to grieve in their own way, but I fully believe that my beliefs helped us get through this very difficult and life changing moment, with as much dignity and peace as possible.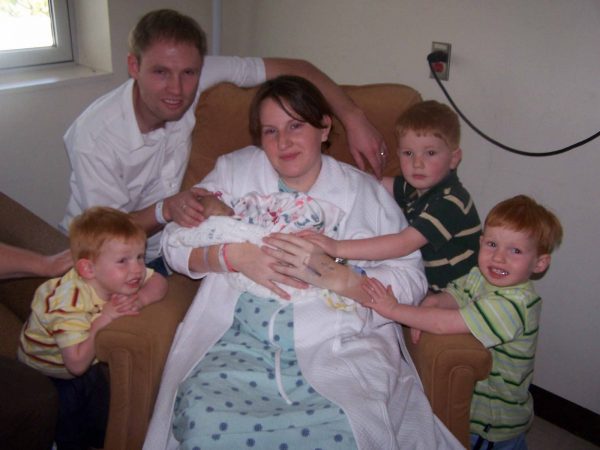 While we had Gianna, we were able to get a few family pictures. I wish I looked a little better, but after all I had been through, and recovering from c-section, it's okay. Having these cherished moments with my baby was all that I could hope for. When the nurse came in for the last time, to check Gianna's heart beat, I just knew that it had already stopped. I could tell the moment her heart stopped, because I felt her spirit leave the room. I truly feel like she was with us for that hour, giving and feeling of all of the love of our family.
Gianna was born on May 29th, 2008 and passed away in my arms on May 31st, 2008.
As a little side note, I want to add that Gianna's cardiologist told me that if he hadn't known any better, he would say that Gianna looked like a Trisomy 18 baby. If you recall, the amniocentesis said otherwise. Sometimes I wonder if that test came back with the wrong results, just so I would get to deliver my baby, and to see and hold her for a time. My doctors would not have done an emergency c-section had they known she was a Trisomy baby. Tender mercies.
You can read my next post, which is about recovering after the death of my baby.
Related articles