It has been 2.5 weeks since BlogHer12 in NYC, and I still feel like I am playing catch up! I really wanted to tell you about my trip to New York, and what I learned and experienced at BlogHer12. BlogHer is a conference made for blogging women; to learn, network, and have some fun. I think I accomplished all of these things, and then some!
I have been lucky enough to attend NYC three times in the past year. I had never been to New York before this past year either. I feel pretty lucky. One of these times I need to head out with my family and do all of the touristy things. One thing I was hoping to do during this past trip was to take a Gray Line Bus Tour. I did a brief one last Fall, but it was pouring rain, so we didn't stay on long. I just want to put a bit of information out there for anyone who is planning a trip to NYC. Be sure to check out Gray Line's different loops:
Downtown Loop
Uptown Loop
Brooklyn Loop
Night Loop
Bus Tours are a great way to see a lot of the city, and to really learn a lot. For this particular visit, my feet did not get such a break! I walked just about everywhere, and I think I sweat gallons!
Now for the fun stuff! Be forewarned that there are many photos!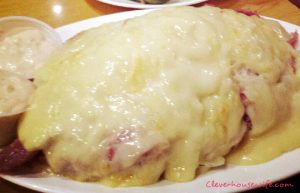 My first day in NYC was kind of a free day, to explore the city. I did have a couple of meetings, which began at the Carnegie Deli, with the Escalate Network guys. Escalate is one of my affiliate companies, that I earn some of my blogging income through. If you are a blogger, and want to earn some commissions, then be sure to check Escalate out. The Escalate dudes are attentive and awesome! The Carnegie Deli was a nice welcome to the neighborhood with GIANT sandwiches and amazing cheesecakes! This right here is what I call an open-faced Reuben and the most delicious blueberry cheesecake ever! Thank you to Escalate for such an amazing lunch!
I did a little window shopping at the ToysRUs in Times Square, and got up close and personal with the store's pet T-Rex.
Snapped a photo of the Times Square cops on horses! I imagine they can get around a lot faster by horse, than by car. The streets and sidewalks of Times Square are insanely busy!
Then I finished off day 1 with none other than Orchestra seats at the Broadway show of Newsies! I went to the show with friends Monica and Cathy from Fabulessly Frugal. I am one of the few people in the world who actually saw Newsies when it was in theaters for it's "one week". I loved it then, and love it still. The lead actor (Christian Bale in the movie) was fantastic and adorable. All of the cast was phenomenal, as was the music and dancing. Must-see!
Day 2 (Thursday) was when the craziness began, and didn't stop until I boarded my plane Sunday morning at 6am! The humidity of NYC in August was almost more than I could bare. Despite my not-so-great eating, I actually lost weight on this trip, due to the fact that I walked and sweat it all off! I learned that not all New York restaurants have air conditioning, so don't count on getting off the hot streets, for some refreshing air. Luckily Bubba Gump did have nice air! I got to have lunch at Bubba Gump with my Nutrisystem PR Rep, Meredith, and fellow blogging Nutrisystem-ers. I met some fabulous new friends and had some yummy food too.
I then had an event at the Four Seasons. I thought it was so fun to actually be in the Four Seaons in Manhattan, that I actually snapped a picture of the bathroom!! lol Instead of typical paper towel dispensers, yes, there were thick folded towels on the counter. Fancy, no?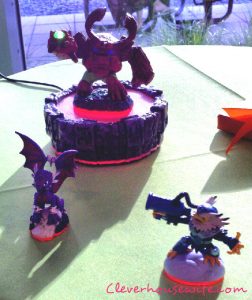 Then it was off to the event that I was most excited about, for the whole weekend – The Big Toy Book Sweet Suite. This event is by invite only, and I was privileged to go last year, and this year. This is where several toy companies and brands set up their up and coming toys/products, for us to play with. The snacks are great and the networking is even better! I met with so many different brands and look forward to working with many of them. Just a sneak peek at one of the up and coming toys is the Skylanders Giants! You heard that right. Skylanders, which was released last year, and featured in my Holiday Gift Guide, is coming out with a second game! It looks amazing, and my kids couldn't be more excited. I have some excellent news too – this hot gift item will be featured in this year's Holiday Gift Guide, so stay tuned!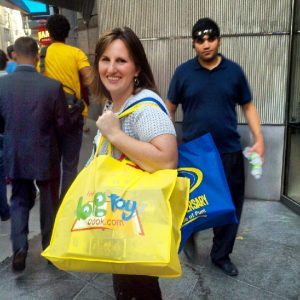 This is me walking the streets of Manhattan, after the Sweet Suite event. Yes, those bags are full of toys I received! I wasn't heading back to my hotel either, but to two more events for the evening.
I will be writing more about some of the other brands I connected with, later.
Some other highlights from my trip:
Connecting with media reps for the upcoming film, "The Host" (Open Road Films). I read the novel by Stephenie Meyer, author of Twilight, and am excited to work with them on her new film, which she happens to be producing!
Taking a photo with the GORGEOUS Milkman at the Expo Hall. Maybe it's just the contrasting white uniform and his beautiful dark skin, but I just found him handsome! Shh – don't tell hubby!
Posing with the Zombie from Plants vs Zombies. This is my children's FAVORITE computer game, so I was thrilled to connect with PopCap.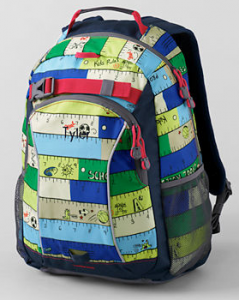 I attended a very fun event with Lands' End where we put together back-to-school outfits, learned about healthy meals for back-to-school, got my makeup and hair done, and ate petite foods! I also got to bring home the cutest Lands' End backpack ever, for my oldest son. He loves it!
To finish off my busy and fun-filled days in NYC, my blogging friends and I attended the annual CheeseburgHer party, which is catered by none other than McDonalds. Nothing like dancing, wearing McDonalds paper bags on our heads and eating cheesburgers from a hot buffet. And yes, I was already showered and in my jammies for the night! I had to get up before 4am for a flight, so no judging! hehe
The friendships and working relationships that I gained and developed are worth a million. I am also grateful for Mary, Couponers United, for always putting up with me and being my roommate on these excursions. We even shared a double bed this time, so we could share a room with Couponin On Coffee and Frugal Coupon Queens. Bummer – no pictures of that!
I want to give a big thank you to Ubokia and RosaceaFacts, for sponsoring me, and making this trip possible.
Related articles