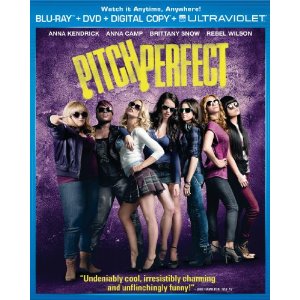 Pitch Perfect Sings Its Way to Blu-ray and DVD
I simply love movies, and being entertained. I enjoy going to the theater and losing myself in a story, but I also love to curl up in a blanket at home, and bring the stories to me. This Christmas bring laughter and talent into your home, with Pitch Perfect. I was so excited to see Pitch Perfect when it came to theaters, so the hubs and I made a date night out of it. It was all that I expected it to be. Great music seriously gives me chills, and the mash-up for the finale, did just that. So funny, and great musical talent. Anna Kendrick, the lead, is so cute and extremely talented. Then you've got Rebel Wilson, who is an absolute riot! As of yesterday, 12/18, Pitch Perfect can be found on Blu-ray™ Combo Pack, DVD, On Demand and Digital Download.
I am on my second time of watching Pitch Perfect on DVD. To be honest, I think it has taken me over an hour to write this post, because I keep getting distracted by the movie! I put the DVD in so I could listen to some fun music while working, but the funny lines, and sweet plot, make it difficult to concentrate on work!
Just to make things clear, Pitch Perfect is NOT about baseball! Even better – it is about a college's a cappella groups who compete. They sing some awesome mash-ups, that just make me happy. There is quite a bit of comedy, but some of it is inappropriate for younger crowds. With a PG-13 rating, I wouldn't recommend younger kids watching the movie. With Pitch Perfect, you also get a little romance! This is totally one of my kind of movies. I haven't tried out all of the bonus features yet, but I plan to get to them tonight.
Here are some of the bonus features you will find:
Deleted and Extended Scenes
Meanwhile… Find out what other characters are up to in these alternative scenes.
Line-O-Rama: Actors showcase their improvisational skills in this collection of funny one-liners from the set.
Starships, The Pitch Perfect Music Video
Backstage at Barden: Profiles & interviews with characters Benji and Bumper.
On The Set: Burrito Drive By!: Behind-the-scenes footage with Fat Amy.
A Look Inside: Catch a glimpse of this ensemble cast, the characters and the actors' thoughts behind them, with this first-look into the movie.
Feature Commentary With Director Jason Moore and Producers Elizabeth Banks and Max Handelman
Feature Commentary with Producer Paul Brooks
Blu-ray™ exclusives include even more Meanwhile… Featurettes and an additional Line-O-Rama.
You can purchase
Pitch Perfect (Two-Disc Combo Pack: Blu-ray + DVD + Digital Copy + UltraViolet)
 for just $19.99, on Amazon! The DVD itself is just $16.99. I don't know when the price will go back up, but that's a nice deal for now. This might even make a nice stocking stuffer!
I received a copy of Pitch Perfect for review purposes. All opinions expressed are my own.
Related articles