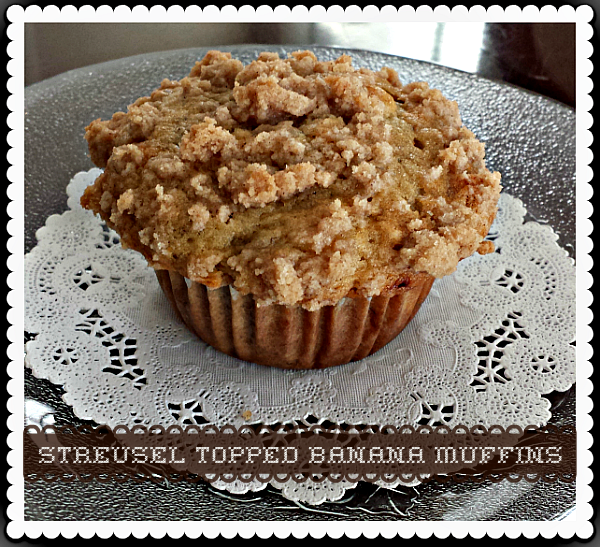 Have you got overripe bananas sitting on your counter begging to be used? Well . . . I've got the perfect moist muffin recipe for you. I always have good intentions when I buy bananas – but lots of times my good intentions don't pan out and before I know it I've got REALLY ripe bananas lookin at me. I can't bear to throw away a good banana – well, if it's totally brown, it's a goner. I found this recipe a while ago and tweaked it a bit for my taste. The great thing about this Streusel Topped Banana Muffin recipe, is that it's so moist and full bodied that it begs for some add-ins. You could even add some grated carrot, or chopped dates!
The Streusel Topping is an added bonus, but not necessary if you don't want the extra sugar. I think I'm going to give coconut oil a try as a substitute for the butter, next time I make these muffins. If someone beats me to it, let me know how it turns out.
In the meantime – enjoy these babies. They're a snap to make. I suggested using a separate bowl to stir the dry ingredients before adding to the creamed banana/sugar mixture, but to be truthful, I just threw the flour and such on top of the wet ingredients. Only one bowl to wash.
Streusel Topped Banana Muffins
Prep time:
Cook time:
Total time:
A moist and flavorful muffin with many add-in options
Ingredients
4 large very ripe bananas
1 egg
1/2 cup sugar
1/3 cup butter, melted
1 1/2 cups flour
1 tsp baking powder
1 tsp baking soda
1/2 tsp salt
Optional add-ins: raisins, craisins, chocolate chips, nuts, grated carrot, crushed pineapple, chopped dates. Use your imagination.
Streusel Topping:
1/2 cup flour
1/4 cup brown sugar
1/4 cup cold butter
1/4 tsp cinnamon
Instructions
Preheat oven to 350°
In mixing bowl beat sugar, butter and egg until creamy. Add the bananas and beat until bananas are mashed. A few small chunks of banana are okay. In another bowl stir together the flour, baking soda, baking powder and salt. Slowly add the dry indredients to the sugar/banana mixture and mix slowly just until all the flour is blended in. Overmixing makes for tough muffins.
Stir in any add-ins you prefer.
Spoon mixture into muffin cups or greased muffin pan 3/4 full.
Mix together the streusel ingredients in food processor until crumbly, or mix with fork or pastry blender.
Spoon a heaping teaspoon of streusel mix over each cup of muffin dough.
Bake at 350° for 20 -25 min.