Barbecue season is still in full swing here in Northern California, which means more potato salads, jell-o, hamburgers and ribs. After all, what is a barbecue without potato salad? I feel like potato salad is one of those dishes that I never make the same way twice. I am always trying different ways to make it, because, why not? So many different additions and seasonings that can change the entire outcome. I am quite fond of my newest creation – Greek Potato Salad. The use of Tasteful Selections Honey Gold baby potatoes and the addition of sun-dried tomatoes and olives makes this recipe pop.
One thing I have learned that can make any potato salad recipe hassle free are Tasteful Selections baby potatoes. When dealing with potatoes of any kind, one must avoid FOUP – the fear of undercooked, ugly, unwashed, useless, uneven, unremarkable, unsightly or otherwise unappealing potatoes! If you haven't already, I highly recommend reading all about FOUP and how to avoid it, on the Tasteful Selections page. It is quite hilarious! They say 51% of home cooks avoid inviting friends over who may suffer from FOUP. As I have mentioned before, Tasteful Selections is the answer to this problem because their potatoes are pre-washed, even, beautiful and delicious! No more worrying about varying cooking times from potato to potato, because they are all the same size!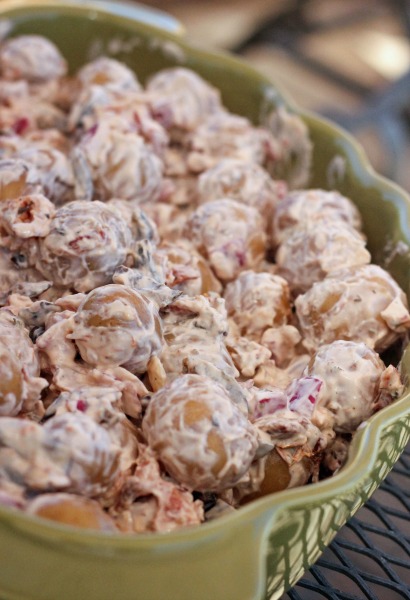 I personally love a potato salad where I don't have to peel the potatoes – a chore I am not a fan of. Using the whole Honey Gold baby potatoes are perfect for this salad. Just pop them right in your mouth and enjoy. The skins are so thin and soft that you won't even notice them. Definitely a bonus with my kids who avoid peels and skins like the plague.
What additions do you like in your potato salad? Be sure to also check out my last potato recipe: Feta Greek Potatoes.
Greek Potato Salad
2014-08-09 03:13:29
No hassle potato salad recipe.
Ingredients
2 bags of Tasteful Selections Fingerling Potatoes, boiled in skins till fork tender but firm
2 small cans black olive wedges
1/3 cup chopped sun-dried tomatoes
1/2 cup chopped red onion or green onions
3/4 cup mayonnaise
1 8 oz carton plain greek yogurt
salt and pepper to taste
1/4 tsp dill, optional
Instructions
In a large bowl, mix together mayonnaise, yogurt and seasonings.
Add cooled potatoes and remaining ingredients to mayonnaise mixture. Stir to combine.
Transfer to a casserole dish and serve.
Clever Housewife https://cleverhousewife.com/