This is a sponsored conversation written by me on behalf of Pillsbury. The opinions and text are all mine.
It's November – finally! October was enough of an excuse to start breaking out the pumpkin recipes, but now that November is here, and the cooler weather has finally hit, I feel more than justified. Many of my fall recipes are elaborate and take time. They're well worth it, mind you, but I thought I'd share a quick and easy recipe for Pumpkin Crescent Rolls, using Pillsbury Crescents®.
Pumpkin pie is a tradition for most when it comes to Thanksgiving dessert. Not everyone has a knack for making beautiful pie crusts, and store-bought crusts just aren't the same. Whether you fit into this category or not, I assure you these Pumpkin Crescent Rolls will somehow find their way into your November cookbook. This recipe can help tie old traditions with new, by incorporating that yummy pumpkin flavor into an easy treat that can be made for Thanksgiving dessert, or just for afternoon snacks as we lead up to Thanksgiving.
I have fond memories that correlate with the month of November. I remember coming home from school on a crisp fall day, and the house would be all clean, and my mom would be in the kitchen baking up something yummy. The house would smell so good, and one of my favorite albums would be playing in the background. There is something about evoking all of the senses that really seals a memory for me.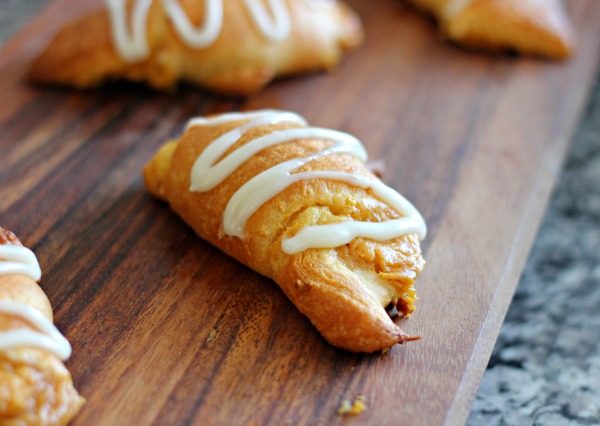 My mom didn't have this yummy pumpkin recipe back when I was a kid, but I plan to carry on this memory for my own kids, with a slight twist. I don't recall the recipes my mom would bake in fall, but these Pumpkin Crescent Rolls are a hit among my children. I hope to recreate my own childhood feelings of warmth, cleanliness and love, through all of the senses, as my kiddos come home from school on these crisp fall days. I hope I can do my mom justice.
Now head over to Walmart and pick up a couple of packages of Pillsbury Crescents®, because you will likely want to make extras!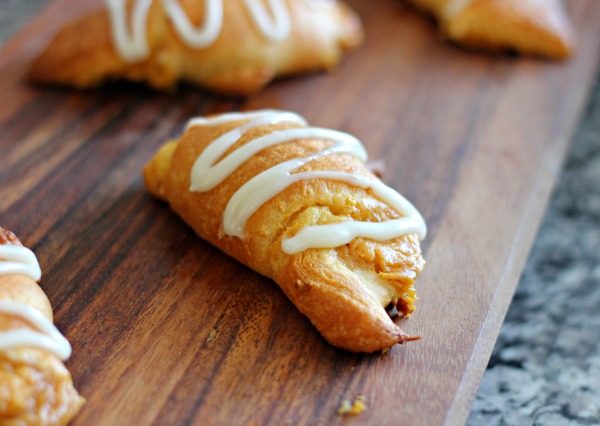 Pumpkin Crescent Rolls
2016-04-12 11:55:21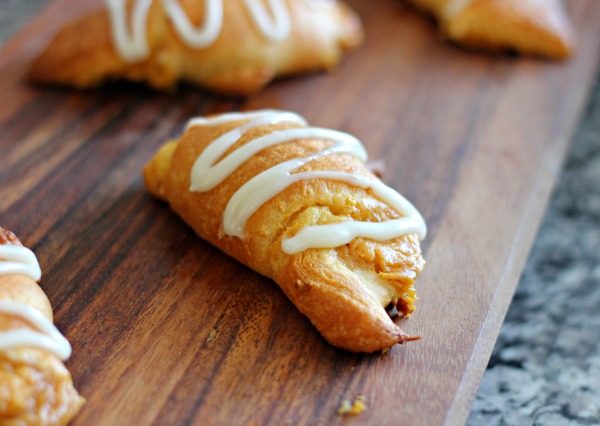 Ingredients
1 8-oz can crescent rolls
1/2 cup canned pumpkin puree
4 oz cream cheese
1 1/2 cup powdered sugar, divided
¼ cup brown sugar
1-2 Tbs milk
1 tsp vanilla
Instructions
Preheat oven to 350°.
In a small bowl, mix together cream cheese, 1/4 cup powdered sugar, and pumpkin.
Open can of crescent rolls and place triangles on a lightly greased cookie sheet.
Spoon a dollop of pumpkin mixture onto the center of each triangle and roll up starting with the thickest end. Place each one, point side down, on the baking sheet.
Bake for 10-12 minutes.
Top baked crescents with glaze.
To prepare glaze, mix remaining 1 1/4 cup powdered sugar with 1-2 Tablespoons of milk and vanilla. Add more or less milk for desired consistency.
Clever Housewife https://cleverhousewife.com/
This is a sponsored conversation written by me on behalf of Pillsbury. The opinions and text are all mine.