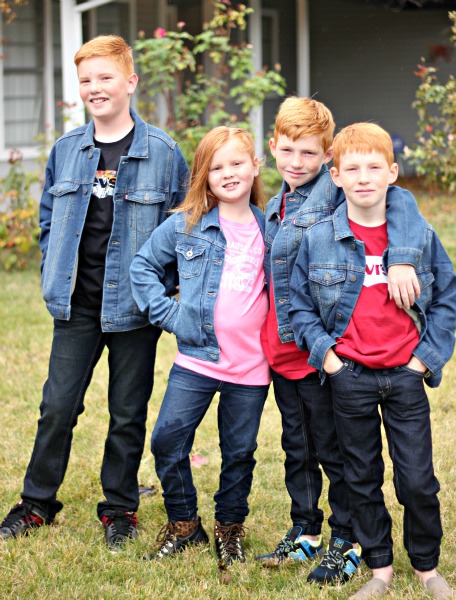 Levi's® have a great history and most of it took place right in my backyard of Northern California when Levi Strauss, a Bavarian-born dry goods merchant, teamed up with Jacob Davis, a garment tailor to create the quintessential riveted blue jeans in 1873. Levi's were created to meet the demand for a sturdy pair of pants for California Miners and workmen. It was found that eventhough the tough denim was sturdy enough to withstand the rigors of hard work, the corners and seams were not – so the rivet at stress points was born. In addition to trusting Levi's as a high quality clothing brand, I'd like to tell you about some holiday favorites in kids fashion.
Just as Levi's was a trend setter in 1873, their trend setting status holds true today. What child, teen or adult isn't filled with glee and gratitude to find these durable classics on their Christmas gift list. No child's wardrobe is complete without a few, or several items from Levi's. For Holiday 2015, Levi's offers an outstanding collection of tops, outwear and bottoms for the perfect Holiday gift. My twin boys are in love with the knit joggers, as am I. I think I shall see if they carry them in my size!
Levi's are designed with active lifestyle in mind, yet are comfortable and durable. Your kids will be tickled to find the Levi's Iconic Trucker Jacket this season. I know my kiddos were over the moon when they received our shipment of Levi's apparel. We even have a few of these jackets that have filtered through the family for years and years, from cousin to cousin and sibling to sibling. I think I still have a jacket of my now 20 year old niece that made it through her 3 sister's and is now mine (but now is too small for my 6 year old – maybe it will be handed through the next generation).
Levi's is one of the most recognizable garments in the clothing industry throughout the world and continues to be a pioneer in clothing innovation and spirit – unparalled in the apparel industry.
I know I can't go without my Levi's! Levi's is so BIG here in California and such a part of our heritage that our beloved San Francisco 49's new football stadium is the Levi's Stadium. If you're visiting San Francisco and find yourself along the Embracadero, be sure to stop by Levi Plaza for a lovely rest – the home of Levi Strauss. And, the next time you see someone wearing a pair of Levi's® jeans, remember that these pants are a direct descendant of that first pair made back in 1873 when two visionary immigrants — Levi Strauss and Jacob Davis — turned denim, and some rivets into what has become the most popular apparel on earth.