This post is sponsored by StarKist®, but opinions are all my own.

This year has started out with so many positive feelings of change. I want so much to have a healthy and happy year, full of personal growth. I want this for myself, and for my family. Because I have my own healthy eating goals, I thought I'd pass them on to my children. I'd love it if I could expand my kids' palate to enjoy different foods, but that's not going to happen if I don't offer them new things. So, I start this year with a new lunch option, or afternoon snack, of Bacon Ranch Tuna Roll-Ups.
StarKist® has created five new products, which I think will make for some really tasty meal options for the entire family. In single-serve pouches, you can get Tuna Creations® Hot Buffalo Style, Kid's Creations® Honey BBQ Tuna, Kid's Creations® Bacon Ranch Tuna, Salmon Creations® Lemon Dill and Salmon Creations® Mango Chipotle. That is not counting the five other flavors that are already part of the StarKist Creations™ line: Ranch, Lemon Pepper, Sweet & Spicy, Herb & Garlic and Hickory Smoked. The possibilities for recipe creations are endless with these flavors, and really you can even eat them right out of the pouch.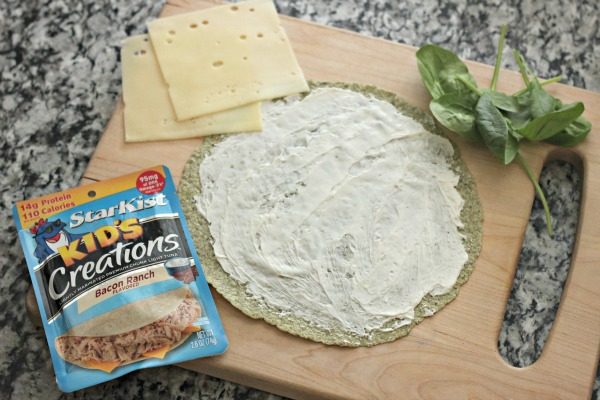 I picked up both of the Kid's Creations® tuna flavors and whipped up a super quick and easy lunch for the kids, with my tuna roll-ups. (I also caught the hubby sneaking a pinwheel or two.) The great thing about roll-ups is that they make for a great appetizer, snack or lunch choice that takes you beyond the everyday sandwich.
Tuna is one of the few ways I am able to get fish into my kids' diets, so I love the new flavor options (not to mention the convenience). These tuna and salmon pouches are a great way to get lean protein and natural DHA omega-3s, which helps to support growing minds and hearts. Plus, the pouches just tear open, and no draining is required! Take one to work with a fork and some crackers, and you've got a great snack.
For the Bacon Ranch Tuna Roll-ups, just start with your choice of tortilla (we like the spinach ones around here), a little cream cheese for spreading, a StarKist Creations™ pouch of your choice, some spinach and cheese. Roll up, and voila!
Bacon Ranch Tuna Roll-Ups
2016-01-06 13:33:29
Ingredients
1 spinach tortilla
1 tbs cream cheese, softened
StarKist® Kid's Creations® Bacon Ranch tuna pouch (or flavor of your choice)
5-7 spinach leaves
2 slices Swiss cheese
Instructions
Spread cream cheese in an even layer over the top of the tortilla. Top with the tuna, spinach and cheese.
Roll tortilla up into a tight roll. Cut into pinwheels and serve immediately, or cover in plastic wrap and refrigerate for later.
Clever Housewife https://cleverhousewife.com/