First of all, IT'S WEEK 5 of the Jeffrey Court Renovation Challenge! That means one more week and then the final reveal! I don't know who is more excited – Keith, who has been putting in 10-12 hour days on this bathroom, or me! I've put in time, but not the hours Keith has. I've been a good cheerleader when my body has cried uncle. Y'all, this bathroom is going to be awesome! Week 3 I shared some tips on tiling a bathroom so this week I am sharing how to grout tile and get it cleaned up.
You can check out our progress from Week 1, Week 2, Week 3 and Week 4!
Before I get to all the grouting tips and tricks, let's chat about this gorgeous shower tile for a minute. I'm in love with the Jeffrey Court Spaced Out Mosaic and I love how it pairs with our floor tiles. We opted to use the Balancing Act tile from our main floor in our shower niche – perfection! Our shower is about 6 feet long and 9 feet high and was a BEAST to tile. Tiling the shower walls, niche, benches and curb took a week! There was just so much space needing tile and with all the special cuts, it was WORK! Keith is very relieved to have this step completed so he can focus on all the many other things that need to be done this week. To finish up the shower tile is grouting and sealing!
Yesterday was our grout day, with just a little more to go. If you don't know how to grout tile with the proper tips, it can really make or break your tile job. Over-grouting can cover up your beautiful tile and under-grouting can leave an unfinished and unprotected look. I've learned the hard way so we've worked hard to master our tile grouting skills.
Tips for how to grout tile:
Scrape away thinset
Any tile job is likely to have dried on thinset that needs to be cleaned off before grouting. You may have thinset on the face of the tiles and especially between tiles. Thinset is infamous for creeping up in those grout lines. Keith likes to use a 5-in-1 painter's tool to scrape thinset from the grout lines. Be careful not to chip tiles or scratch the face of the tiles. Because this tool is sharp and metal, we recommend a plastic chisel end stick tool (yes, that's the official name), for getting thinset off the face of tiles. It's more gentle and less likely to scratch.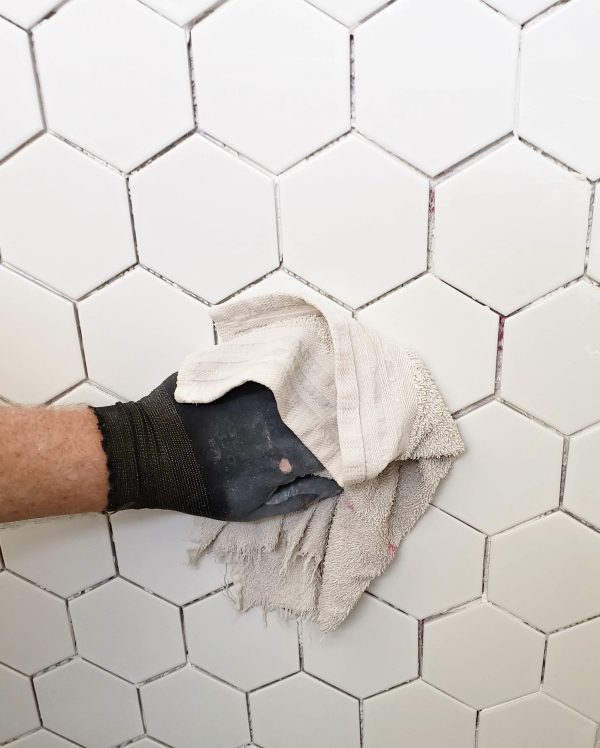 As you scrape and chip away at any excess thinset, have a damp rag on hand to wipe away loose debris. A Shop-Vac may be handy to have on hand, depending on how much debris you have.
Mix grout
Using a 2 gallon bucket add about 1.5″ of grout powder to the bottom. You want to work in small batches so the grout doesn't dry out before you have a chance to apply it all to the tile job. Add a little water at a time, as it is easy to get too wet of a consistency. Stir by hand using a margin trowel or something similar, constantly scraping the bottom and sides of the bucket. It helps if you turn the bucket with one hand as you mix the grout with the other hand. Once you feel the grout consistency is close just dribble a little bit of water at a time until your consistency is that of sour cream. Then step away and give the grout time to "slake" (about 10 minutes). This time will help the grout chemicals do its job and slightly thicken to the perfect spreading consistency. Come back, give it a quick stir and you're ready to grout.
Grouting the tile
Dip the grout float into the bucket and scrape grout up the side, until the end of your float is loaded up. Apply the grout to the tile by pushing the mixture into the grout seams at a 45° angle. Don't be afraid of smearing grout all over the tiles, as long as you get plenty of the mixture into the grout lines. You'll have plenty of cleanup to do when you're done, but the important part is the grout joints getting filled up and compressed. Use a good amount of pressure as you spread the grout across the tiles and grout lines. Some prefer to go at it in a diagonal direction, while others make a snake-like pattern. Do what works for you.
When grouting a vertical surface like we are here, work in an upward motion to avoid dropping a lot of grout onto the floor. Work in small sections, using up the small batch of grout you've mixed up. Let the grout sit on the tile while you mix up the next batch of grout and begin the next section. It's important to let the grout sit in those grout joints for about 30 minutes before trying to clean off the excess. By the time section two is done being grouted it should be time to clean off section one. Repeat these steps until all sections are complete.
Cleaning excess grout
With a bucket of clean water on hand, dampen a sponge (don't drench) and begin lightly wiping away excess grout from the tiles. Don't apply much pressure as you want the grout joints to stay filled with grout at this point. You'll find the grout makes a huge mess and you may wonder if you'll ever be able to get it clean. I promise you will! Just keep rinsing the sponge in clean water (or cleanish) and make several passes over the face of the tiles.
Now that the tiles have just a light haze of grout on them, it's time to make sure all grout joints are even and clean looking. Use a damp sponge (from clean water), and this time, use light pressure from your finger as you carefully move the sponge along the grout lines. Don't push hard, but just remove any high or uneven edges of grout from the edges of each tile. Go for a uniform look across all grout joints.
Final cleanup
Use a microfiber towel or cloth to wipe away the final grout haze remaining on the tiles. Think of this as polishing your tiles.
Sanded or Non-sanded Grout?
As a rule of thumb, sanded grout is best for jobs where the grout lines are larger than 1/8″. Non-sanded is fairly safe to use when those joints are 1/8″ or less. Just know that sanded grout is stronger and less likely to crack, so if you have the space then sanded is the way to go. Check with your tile's recommendation, as certain materials may be more prone to scratching and non-sanded grout may be the safer choice.
Sealing the grout and tile
Once all the grout is dry, it's important to seal it all up. Spread a thin layer of Impregnator Sealer (or something similar) over all the tile and grout. Voila!
I hope these tips on how to grout tile are helpful to you so you can tackle your next tile and grout project. It's been a week, let me tell ya! I'm ready to start seeing the final touches of our master bath come together and become beautiful.
Here's a rundown of what we accomplished this week:
Finished installing and painting shiplap behind vanity and toilet.
Framed in window
Tiled shower walls and curb
Grouted shower walls
Finished electrical so the lights and power boxes actually have power to them now (Thanks to my BIL, Cory)
Installed vanity and made a custom toe kick for the base (to keep the cobwebs and dust bunnies away – they scare me if my mascara rolls underneath the vanity)
As a reminder, we need your vote over on the Jeffrey Court website, to help us win that dream vacation! Trust me, we'll need it when this week is over! I hope you're following along on Instagram for updates as we go, and #JCRenovationChallenge, #JCChallengeAccepted and #RenovationNation!