Going gluten free last year had its ups and downs. At first it was easy making the choice and turning down all gluten because I was desperate to get feeling better. Then the holidays hit and I was tempted by all of the gluten-filled treats. Ready to kick gluten to the curb again, I'm aided in my journey with gluten free Egg Bites for a protein pick-me-up. Whether you're gluten free or not, the Three Bridges Egg Bites are such a tasty option for a good source of protein.
I skip way too many breakfasts because I simply don't take the time to prep and eat it. Many breakfast foods are fairly fast to make, but there's still the effort and the hassle of dirtying dishes. Who wants to start their day off with a sink full of dishes, right? I can handle heading to the refrigerator and opening up a package of Egg Bites, taking out the tray and microwaving it for 90 seconds. I typically serve them right out of the tray so no dishes needed!
My boys leave the house around 6am and I will admit I often don't see them off. I just don't love the early morning and my husband hates it less. I feel terrible about not making the boys breakfast, but I feel less bad when I have Egg Bites on hand! Because they're clean eating made easy, I don't feel badly instructing the kids to grab microwavable eggs from the fridge. Three Bridges has created never frozen fresh Egg Bites with all real ingredients, and they taste great!
With each of my teenage boys in sports without much time to eat between school, practices and other activities, we need healthy protein-filled options. Because these Egg Bites contain no artificial flavorings, antibiotic-free meats, rBST-free cheeses and no binders, they make for a great snack before fitness. The boys went from soccer season straight into track season. Those meets last a really long time so I've been bringing fast and nutritious options between heats.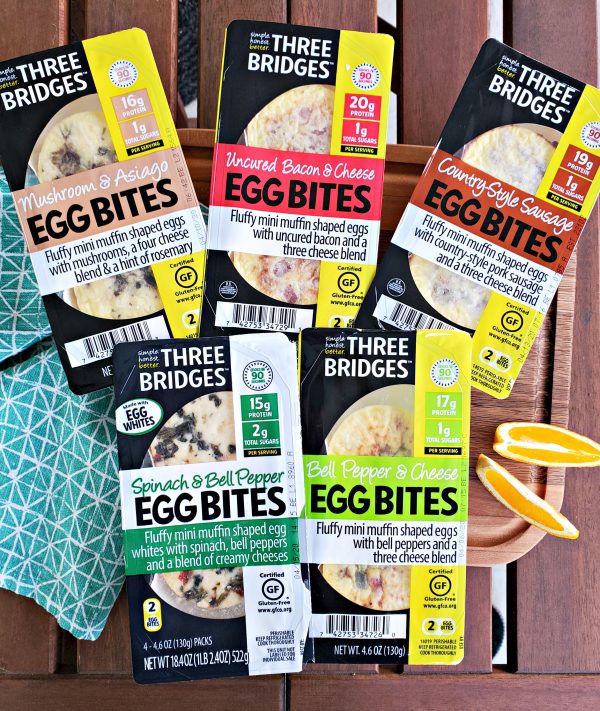 The Three Bridges Egg Bites come in 5 flavors:
Mushroom & Asiago
Uncured Bacon & Cheese
Country Style Sausage
Bell Pepper & Cheese
Spinach & Bell Pepper with egg whites
Whether you're a busy mom, schedule-filled athlete or anything in between, I seriously can't recommend these Egg Bites enough. Get up to 20g of protein in one package!