In true 2020 fashion, get your holiday pictures at the Grinch's Grotto at select locations across the country. Pictures with the Grinch are just what you need! This post is sponsored, but all opinions are my own.
The Grinch's Grotto
It's no secret that everyone is looking for some cheer this holiday season. More than ever, people are looking to the holidays to brighten our spirits in the midst of this crazy year we call 2020. "You're a mean one 2020!" Bring your Grinchiest self to the Westfield Galleria Mall in Roseville, CA, or other select locations, for an experience with the Grinch.
Near the food court in the Galleria is a Grinch stylized holiday tree and a private Grotto complete with a burlap sack full of presents and a backlit fireplace with hanging stockings and toys. The family and I had a fun time escaping reality for a bit, with a socially distant visit with the Grinch. He took us on a tour of his Grotto, while showing off his many pictures of Max and Cindy Lou.
For your portrait there are several 2020 slogans to choose from, which only enhances the photo and reminds us there is some fun to be had, or goodness up ahead. Sample slogans include, "You're a mean one, 2020" "2020: Stink, Stank, Stunk," "2020 – How The Grinch Stole, Well, The Whole Year" and some positive ones including "The Grinch still can't steal Christmas!" I personally loved the sign we chose, "Our hearts will grow three sizes bigger in 2021." We can hope, right?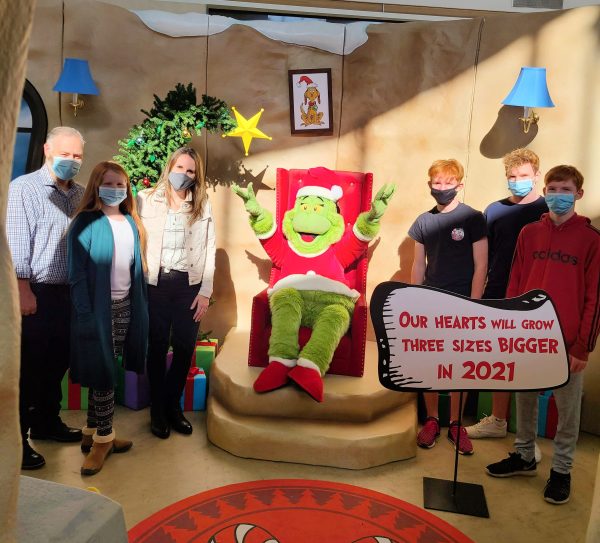 Go ahead and commemorate the holidays in true 2020 style and take your Grinchy self (or not-so-Grinchy self) for a fun family photo. If you're not in the Roseville, CA area that's okay! You can find similar Grinch's Grotto photo spots at various Westfield Group, Brookfield Properties, Macerich, Turnberry and Oxford flagship malls throughout North America. A few areas include Los Angeles, Chicago, DC, Dallas, Houston, San Diego, Miami, Toronto, Northern California and the New York Tri-State area.
While Grinch's Grotto is open for drop-ins, it is recommended to reserve your spot online prior to visiting. You can book a portrait package or a VIP package, which includes fun Grinch memorabilia! Tickets are limited so don't delay! To see a list of locations and to pre-register for tickets please visit https://www.grinchgrotto.com/.