With Easter coming up, I thought I'd give you all another potato recipe to choose from. Not that everyone eats some sort of potato dish on Easter, but I'll bet many of you do!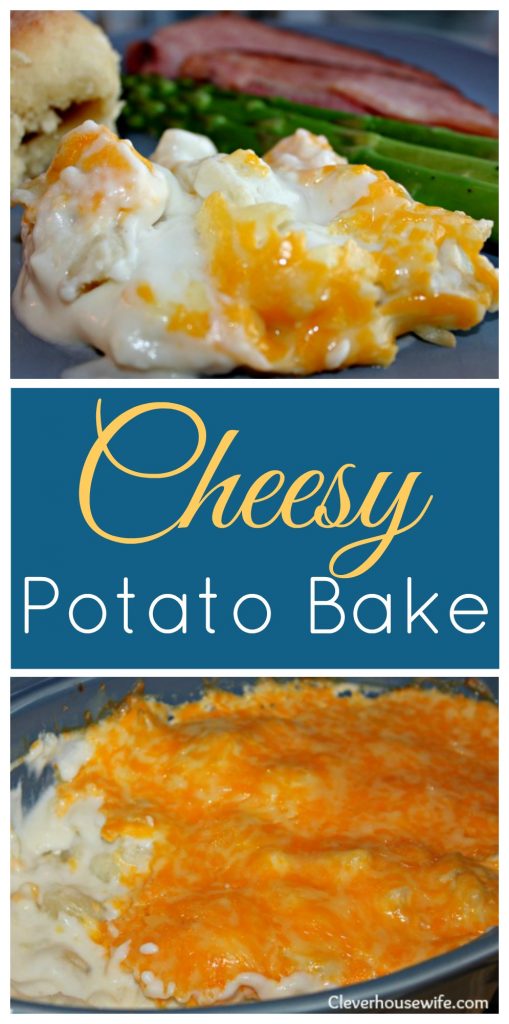 This Cheesy Potato Bake recipe has been in my family for a very long time. My mom made this dish for Easter for as long as I can remember. We have tried different variations of the recipe, but the original is always so great! The combination of creams, potatoes and cheese is just so good that everyone will want seconds! You can add green onions if you'd like (my mom does), but I prefer this dish nice and creamy!
Cheesy Potato Bake
Prep time:
Cook time:
Total time:
Ingredients
8-10 potatoes
6 Tbs butter
6 Tbs flour
½ tsp salt
3 cups milk
5 green onions, chopped (optional)
6 oz sour cream (about ¾ of a carton)
2 cups shredded cheese
Instructions
Place potatoes, with skins still on, in a large pot. Cover with water and bring to a boil. Boil with a lid on until potatoes are fork tender; about 15-20 minutes.
While potatoes are cooking, prepare the white sauce.
In a medium sauce pan melt butter over medium-high heat. Add flour and salt, and whisk until smooth. Cook for about 30-60 seconds, stirring, to get rid of the flour taste.
Add milk to roux and whisk until smooth. Cook while stirring occasionally, until sauce is thickened. Do not leave unattended for very long or sauce will stick to the bottom of the pan.When thickened, remove sauce from heat and stir in sour cream.
Drain cooked potatoes and rinse with cool water. When potatoes are cool enough to handle, peel with a pairing knife.
Break potatoes up into bite size chunks and place in the bottom of a casserole dish.
Pour white sauce over potatoes and lightly fold in with optional green onions, so all potatoes are covered.
Sprinkle shredded cheese over the top of potatoes and bake at 350° for 20 minutes.