More Casserole: So Good That Everyone Asks For MORE!

Casserole recipes are so great to have on hand because they are usually easy to make, they are often great comfort food, and everyone loves 'em! I grew up on all different kinds of casseroles, but it hasn't been until recently that I've made many casseroles for my family. Not sure why because they are often super inexpensive and easy to make! I know how much busy moms like me appreciate easy when it comes to dinner!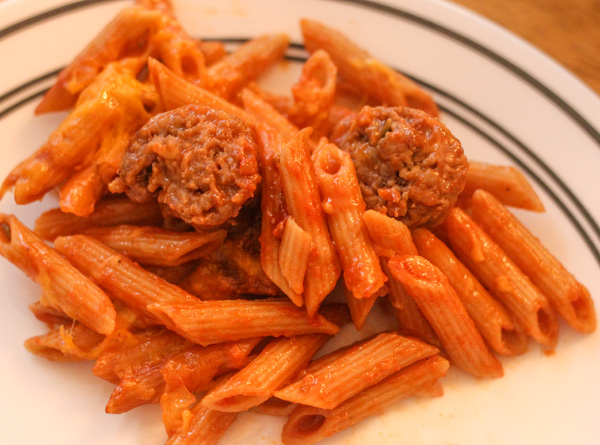 Soccer practices just started this week, and ballet and gymnastics start in a couple of weeks. Then there is scouts, youth activities, and the other random things that pop up. When am I supposed to have a lot of time to cook? Well, with recipes like this, you spend a few minutes at the stove, then pop it in the oven and let the magic happen while you help kids finish their homework.
I made this for the kids and everyone had at least seconds, if not thirds! The whole dish was gone by the time dinner was over! You won't believe how simple and affordable it is to make either!
Yield: 6-8
More Casserole: So Good That Everyone Asks For MORE!
Ingredients
1 box (13.25 oz) of penne pasta
2 cans tomato soup
1 lb sausage links or ground beef - not the breakfast sausage kind
1 cup shredded cheese
1 can corn or green beans (optional)
Instructions
Preheat oven to 350°.
In a medium saucepan bring water to a boil and cook pasta according to package, to al dente.
While pasta is cooking, brown your meat in a large frying pan. If you use ground beef, add 1/2 chopped onion for flavoring. If using sausage links no need to add onion, but cut into 1" chunks before cooking. Cook until no longer pink in the middle.
Add tomato soup and optional veggies to the cooked meat, and stir in the cooked pasta.
Top pasta with cheese and bake for 20 minutes!