Do you worry about the water you're drinking from your tap, or have you given up drinking tap water altogether? If so, what do you spend on drinking water and do you have concerns about all the empty plastic bottles floating around on our planet? There's nothing better for you than a good glass of water, and having a water softener system or commercial water purification systems can give you the confidence that you will always have consistent water quality. Additionally, using a water treatment system or even a Kinetico reverse osmosis system from Norcal ensures your water is free of harmful toxins and safe to drink. Reverse osmosis filtration is one of the safest, most reliable ways to make water safe for drinking.
Recently, Aquasana provided me with their new Aquasana Powered Water Filtration System. After using and enjoying the water at home, I decided to put this unit to the test by allowing my dad to use it at his office. He's a Chiropractor and including himself, there are 4 other employees in his office. He's always provided pure drinking water for his employees, whether from commercially delivered bottled water or most recently from individual plastic water bottles he buys monthly. The cost is high, and the purchasing of and recycling of bottles time consuming.
Now he has the Aquasana unit at his office. I talked with all the employees and they LOVE the water. After reading the materials provided by Aquasana and drinking the water for several weeks now, they're convinced this is the way to go. Not only do they feel confident they're getting pure water, but they feel good about not contributing to the plastic bottle dilemma.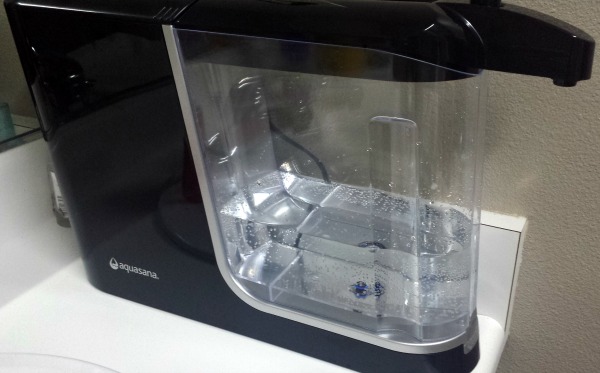 Here's some information from Aquasana about their new countertop pitcher filtration system.
AQUASANA POWERED WATER FILTRATION SYSTEM
**The world's first pitcher filter system to use power in order to provide clean, fresh water-fast**
Powered Filtration = Better Filtration.
• Ultimate purity – reduces 10x the contaminants than the leading drip pitcher fi lter.
• Ultra-fast – filters in seconds! Stop waiting for slow drip pitcher filters to trickle through.
• Delicious water – selectively retains beneficial minerals for health and taste.
Experience filtration never before available in a pitcher. Great-tasting, healthy water has never been easier. Introducing the Aquasana Powered Water Filtration System – designed to reduce 10x more contaminants than the leading gravity-based filter, in just seconds – no installation required. Unlike traditional gravity-based filters that slowly trickle water over filter granules, Aquasana uses powerful patent-pending ClaryumTM filtration technology to quickly force unfiltered water through a dense filter block for ultra-pure filtered water in just seconds. Powered filtration not only delivers filtered water fast, it delivers the purest water possible by reducing more contaminants than any other gravity-based filter on the market. The Aquasana Powered Water Filtration System is tested by NSF International, the gold standard for water filtration, to reduce 60 harmful contaminants from drinking water including lead, mercury, asbestos, giardia, cryptosporidium, herbicides, pesticides and over 96% of chlorine and chloramines, in just seconds.
There' s the facts about the system. I must add that it's very easy to use, and has a sleek modern design that looks great on the kitchen counter. My unit came with an additional pitcher that can be filled and kept in the fridge for cold water on the spot. The countertop unit is kid friendly, and having it encouraged my children to drink more water. Even the 4 year old could use it easily.
Aquasana states their long-lasting Claryum™ filter lasts about 6 months or about 320 gallons woth of pure, filtered water. If you do the math, that equals about 4,000 plastic water bottles!
After a little longer, I'll probably reclaim the unit from my dad's office and encourage him to purchase his own. But, I wanted to get the opinion of several other people before I shared the information with my readers.