This post brought to you by Dreams Resorts & Spas. All opinions are 100% mine.
Fantasizing about getting away to a foreign country and getting lost in taking in new surroundings, is something that I have been dreaming about an awful lot lately. I have a London trip coming up in August, but then there are the 11 other months of the year that I will be sitting idly at home. Okay, maybe not idly, but it's definitely no vacation here! I have been dreaming of something like Dreams Resorts & Spas. In fact, as part of my weight loss journey I have set rewards for myself, after every 10 lbs that I lose. Visitng a spa is one of those rewards! I have never been and they are calling my name for sure!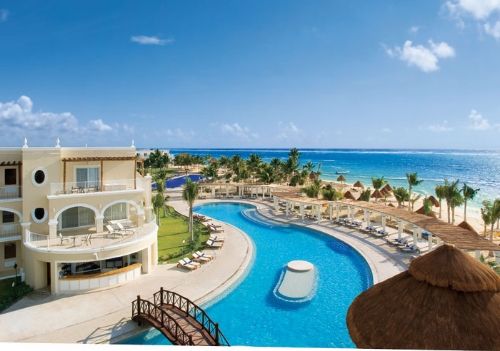 Dreams Resorts & Spas are perfect for the couple that wants to get away without the kids, families, and I'd say even a girls' weekend getaway! If you appreciate great value for your money then look no further. If it is Family travel that you are interested in, then you will be pleased to know that there are plenty of activities that can be enjoyed by the entire family. After looking over the three properties, I think that if I were to travel with the kids, I'd go to the Dreams Tulum Resort & Spa. My kids would absolutely love to participate in the Beach Olympics that they host. Also offered are guided hiking tours, deep sea fishing (if you have the stomach for it), cooking classes, kayaking and more! Sounds like a dream family vacation to me!
While all Dreams Resorts & Spas boast Unlimited-Luxury®, I can see having a thrilling time with my girlfriends while we ride the mechanical bull at Dreams La Romana Resort & Spa, as well as having merengue dance lessons on the beach. Then for more of a relaxing time, cozy up with a loved one as you watch movies on the beach. They've also got casinos and a Aerobics in the sea! That's a fully well-rounded day right there!
The All-inclusive luxury resort of Dreams Villamagna Nuevo Vallarta Resort & Spa, located in Riviera Nayarit, Mexico, will have you working not only your muscles but your fear conquering skills as you take a bike tour across town, and soar high with their on-site euro-bungee! Sounds like fun to me! You can also take Scuba diving lessons, zip across the ocean on wave runners, or enjoy a round of golf. Oh. My. Fun! I don't think you can go wrong with any of the Dreams Resorts & Spas and I personally would love to visit them all RIGHT NOW! Someone take me away!
Based on what you have learned so far, which resort would be your first pick? Comment below and let me know. I'm also interested in hearing which activities have you most excited. Don't keep all this fun to yourself – share the info with friends and family and plan your next getaway!