A good night's sleep is more important than many of us often realize. Poor sleep hygiene can mess with our health in many ways. It can affect your mental acuity, weight loss goals, judgment and much more. Lack of sleep can just make you feel crummy and sluggish. There are a variety of reasons why one might not be sleeping well. There could be too much on the mind, aches and pains, bad bed and more. It may be time to shop furniture and mattresses online. A few years ago I purchased a bed that I loved. I had high hopes that it would last me a very long time, but unfortunately it broke down before I was prepared to buy another bed. Luckily Sleep Number® came to the rescue and offered me a king size version of the Sleep Number m7 bed. It actually got delivered on my birthday, and I can safely say that it just may have been the best birthday present to myself, ever!
Shopping for a Sleep Number bed is a pretty cool experience. You begin by laying on one of the classic Sleep Number beds, so you can establish your Sleep Number. There are visuals to show you what parts of your body might be feeling the most pressure when laying down. As your number is adjusted, the visuals will change to show more relief/less pressure. Once a comfortable Sleep Number is established, you can begin shopping for the perfect bed for you.
Everyone's preferences will differ, as do the prices. I tested out the Sleep Number p5 and the m7 beds. For me, there was a big difference between the two. I went with the m7 because it is a memory foam bed that gives the feeling of being hugged all around, in addition to the SLEEP NUMBER® DualAir™ technology that it contains. Some may feel claustrophobic with that feeling, but I quite enjoy it. It was even really fun to watch the delivery guys install my bed. It was brought to my room in pieces and they built it, and filled it will air, right in my bedroom. Then they gave me a little tutorial on how to use my nifty remote, and left me to my bed.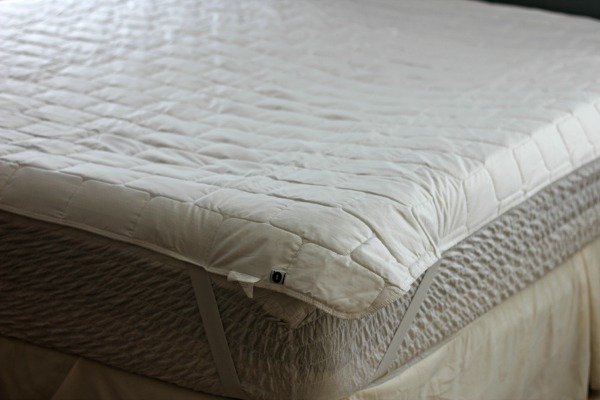 I'd say it took a few days of sleeping on my new Sleep Number bed, before I really got comfortable with my number. I played with the number a bit because some mornings I would wake up with a sore low back. I used the customer service line to help me in getting the right number, and they were beyond helpful, patient and kind. They really do want to get you sleeping better! They indicated that a sore low back might be the result of too high of a Sleep Number. I lowered my number and I've been comfy ever since. The only other issue I had was temperature control. The thing about memory foam is that it can get hot. I was feeling warm underneath me so I was provided with an In Balance™ layer to add on top of the mattress. Now that everything is in place, I am sleeping great! Better temperature control, and superb comfort for a good night's sleep!