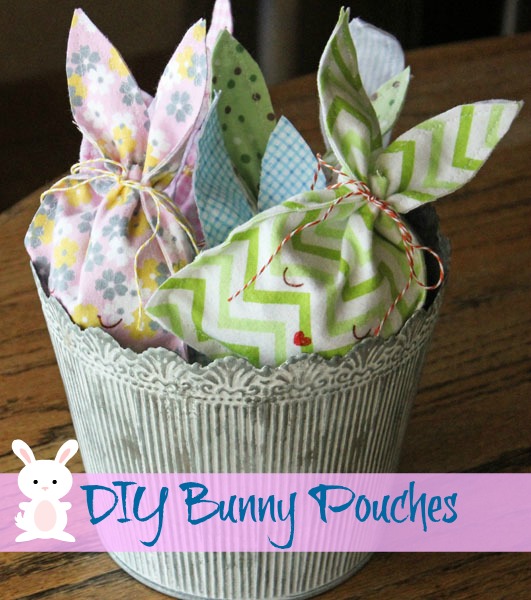 With the 31 grandchildren my parents have, gift giving can get quite expensive. Numerous holidays and celebrations throughout the year can mount the gift giving to an unmanageable task. My mom likes to do a little something for her grandchildren on select holidays. She sends them all valentines, gifts or money on their birthdays, and a little something for Christmas. Last year for Easter, she made cute little fabric stuffed bunnies for all the kids and she decided to carry that tradition over to this year by making a simple DIY Easter Bunny Candy Pouch for each grandchild. My mom is quite handy with a sewing machine – talented really. However, many projects can be very time consuming and when you multiply that by 31 – whew, it's just too. . .! But . . . she found this free template from mer mag, and followed the easy tutorial to make 31 Easter Bunny Candy Pouches. You too can print the free template, but I'll give you a brief run down of how to make them too.
Purchase either flannel or assorted calicoes, and cut out 2 pieces using the template for each bunny – a front and a back. With wrong sides together, stitch very close to the edge, no more than 1/4″, from the inside edge of one ear, going around the ear, down the side, across the bottom, up the next side, around the ear and finish at the inside edge of the second ear. You do not stitch across the opening between the two ears. This is left open for stuffing goodies inside the pouch. She used a small zigzag stitch but you could use a straight stitch or another decorative stitch, if you'd prefer. The edge between the two ears is left raw.
Before you stuff your bunny, draw on two little closed eyes, and a sweet little heart shaped nose, making sure you draw them on the lower half of the front of the pouch, so they will be well exposed when you tie the bunny shut. If you're handy with embroidery needle and thread, you can stitch the eyes and nose, but you'd need to do this before you sew the two pieces together.
Now stuff your cute little bunny pouch with candy – she used wrapped candy so the fabric wouldn't get sticky. You could put a sweet little note inside, or even some cash! Be sure to not overfill, as you need some headspace to tie the bunny shut.
Using Baker's Twine, or ribbon, tie the bunny closed placing the tie about an inch below the open edge. The tying process will turn those little ears into real bunny ears that can flop any which way.
The best part about this simple pouch, is there's no turning it inside out for a finished edge. The raw edges add to the charm and simplicity of the pouch. Of you're concerned about fraying, you could cut them out with Pinking Sheers. These can be considered a one time use item, or a well-loved treasure to be used over and over. If preferred, you could stuff the pouches with batting, and just display an assortment in a basket. Voila – a sweet little treasure for that someone you love.