While Flag Cakes are fairly popular for the 4th of July, I think they really could be served anytime of year. Is there really any bad time to celebrate freedom, and our country? I think not. Besides, this cake is superbly delicious! You get to revel in the multiple layers of white and red velvet cakes, plus a very sweet frosting covered in sugary sprinkles! Mmmm! Hungry yet?
I wouldn't exactly say that the American Flag Cake is the easiest cake to make, but it doesn't take rocket science either. It will take some cutting and possible refiguring to make the pieces fit together properly, but it will be well worth it. My mom made this cake for our 4th of July celebrations and she did say that she wished she had made the blue portion a little bigger, but I still think it turned out great.
Since our recent move took us farther from my parents, the kids and I are very excited to spend the 4th with cousins and grandparents. We plan to spend the day by the pool, barbecuing and eating delicious foods. How do you plan to spend your day celebrating the freedom of our nation?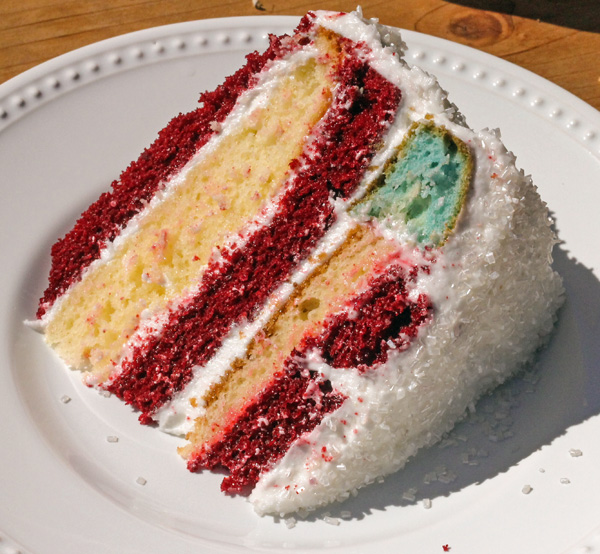 American Flag Cake
2014-07-03 02:48:03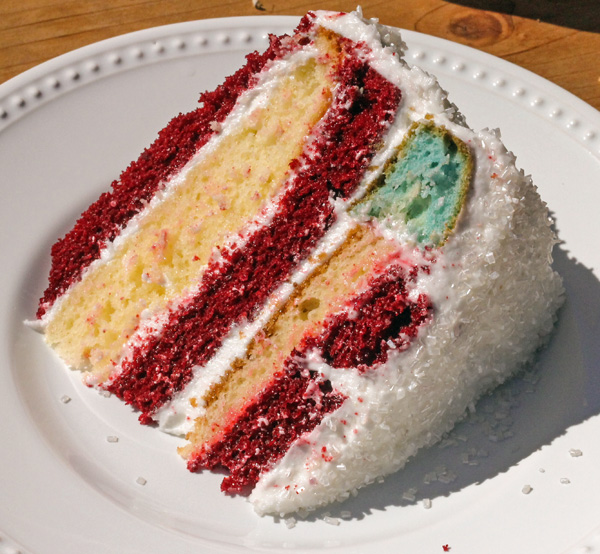 Ingredients
(1) 8 inch + (1) 6 inch Red Velvet Cake
(1) 8 inch White Cake
(1) 8 inch Blue Velvet Cake
Buttercream frosting
clear sprinkles
Instructions
Cut white and red velvet cakes in half lengthwise, creating thinner layers.
Using cardboard or parchment, cut out a 4-inch circle. Place it on one of the 6 inch red velvet cake layers, and cut the cake down to a 4 inch circle. Repeat with a white cake layer and the blue velvet cake layer.
From the blue velvet cake layer, remove the middle, keeping the outer ring in tact.
*At this point you should have: 2 (8 inch) and 1 (4 inch) red velvet cake layers, 1 (8 inch) and 1 (4 inch) white cake layer, and 1 hollow (8 inch) blue velvet cake layer that is twice the thickness of the other layers.
On your platter/plate alternate red, white then red 8-inch layers, adding frosting inbetween.
Place the Blue cake layer (ring) on top of the cake and frost the inner circle.
Frost the 4 inch white cake layer and lower it into the middle of the blue velvet layer.
Lower the 4 inch red velvet layer onto the top of the white layer inside the blue velvet circle.
Crumb coat the cake before adding the final frosting.
Finish frosting and add clear sprinkles.
Buttercream Frosting
2 boxes of powdered sugar
1 1/2 cubes butter
1/3 cup milk
2 tsp vanilla
Beat butter until light and fluffy, add remaining ingredients and beat until creamy and fluffy. Add more milk if needed for desired consistency. This makes a lot, but you'll need it for crumb coat and extra layers.
!Extra tips
Chilling each layer before stacking and frosting to prevent crumbs.
!Cutting the Cake
Chill the cake before cutting.
Use hot water and a hot clean knife. Between slices, clean the knife and slip it down into very hot water.
Make sure the knife is completely dry after dipping it in the hot water.
Clever Housewife https://cleverhousewife.com/
I don't have step-by-step photos, but you can get them from
The Sugar Turntable
.