Going to the movies is my way of escaping the realities of life for a couple of hours, and reveling in the beauty of make belief. There were a couple of months this year where I was even watching movies every week. Unfortunately, I haven't been in a little while, but I am definitely going to make it out to see the newest release: Paramount Motion Pictures "Interstellar" in IMAX November 5th, everywhere November 7th. Boasting a cast with Matthew McConaughey, Anne Hathaway, Jessica Chastain, Michael Caine, Bill Irwin and Ellen Burstyn, how can this movie go wrong?
With our time on Earth coming to an end, a team of explorers undertakes the most important mission in human history; traveling beyond this galaxy to discover whether mankind has a future among the stars.
I think it is fairly common for children (and many adults) to wonder what is beyond what we can see. This includes space. I mean, how many of us have put those sticky glow-in-the-dark constellations on our ceilings? My daughter just acquired some a couple of weeks ago. Then there is the question of whether or not there is life outside of Earth. Kids often want to grow up to be astronauts so they can walk on the moon and look for other life forms. There is so much fascination around space that the release of INTERSTELLAR is a great time to break out the space activities with the kids.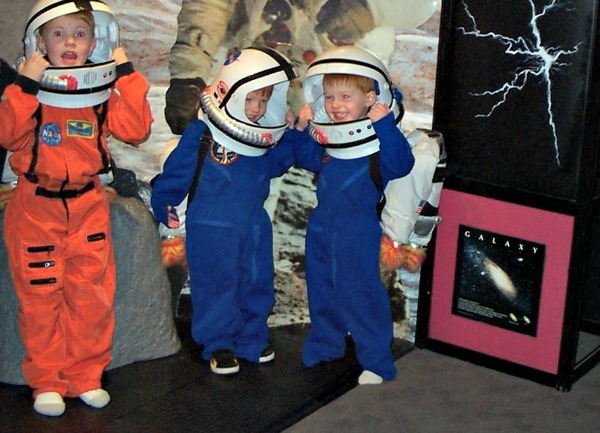 Whether you create your own solar system, form constellations on your ceiling, or take a trip to a space museum, get some fun conversation going with the kids. I'm not able to make it out to the museum this week, but I was just reminiscing about the Discovery Science and Space Center in Sacramento. Back when my oldest was very interested in space, I took my kiddos to explore and dress up like astronauts. As you can tell, they loved it! Have a fun space-filled weekend as a family, and head to theaters to catch INTERSTELLAR.
You can learn even more about the film, before you go see INTERSTELLAR in 70mm IMAX film, 70mm Film & 35mm film November 5th. Everywhere on November 7th.
"This blog post is part of a paid SocialMoms and Paramount Pictures blogging program. The opinions and ideas expressed here are my own."