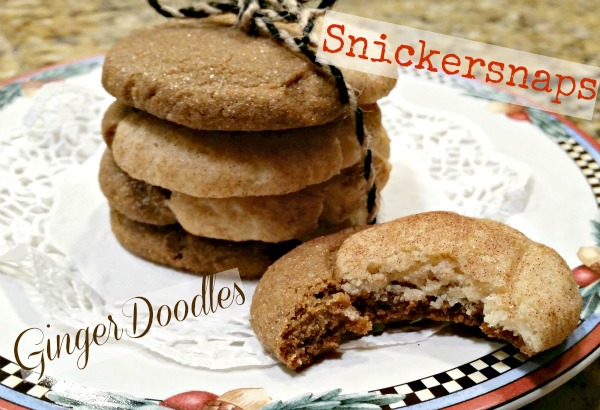 Marriage has been on my mind lately – understandably, since we just had a wedding in the family. As I contemplate the blending of these two wonderful people and the uniting with the children, I've pondered how it is that two vastly different individuals can come together and build a beautiful relationship – combining all that is good and wonderful about each and creating something new, exciting and enduring.
Well, two of my favorite cookies are Moist Ginger Cookies, and Snickerdoodles. We like to stop at a little Farmhouse on the way out of town and buy some of their homemade cookiesto enjoy on a drive. I almost always buy the Molasses Ginger Cookie and a Snickerdoodle. While classic Chocolate Chip Cookies are my all time fav, I can't seem to resist buying these two cookies at the Farmhouse.
Today was cold and rainy, and I thought, why not make a batch of each! Then I thought further and decided to unite the two doughs into one perfect blend – hence, the marriage of two of my favorite things.
So here ya go. You can decide if you'd rather call them Gingerdoodles or SnickerSnaps.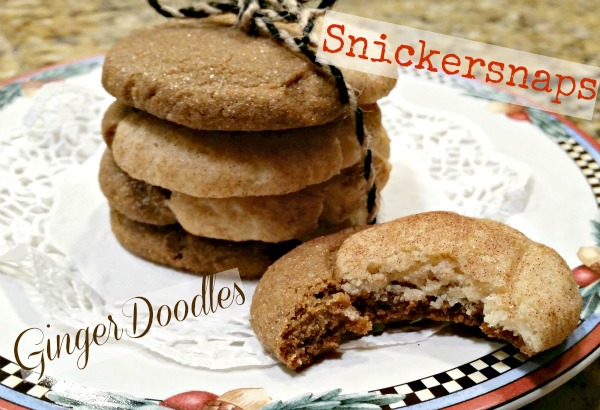 Gingerdoodle cookies
2015-01-16 18:51:50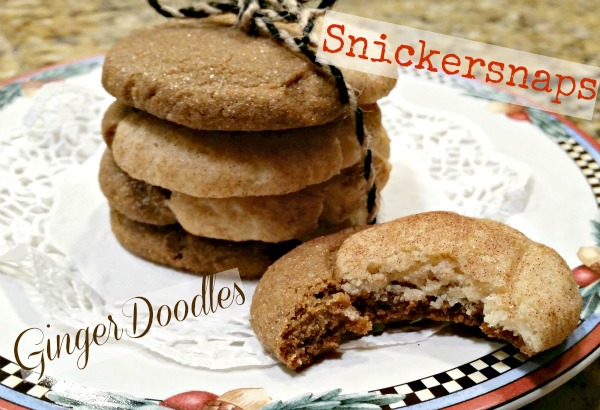 A blending of gingersnap cookies and snickerdoodles.
Sinckerdoodle dough
1/2 C butter
3/4 C sugar
1 egg
1 Tbs vanilla
1 1/2 C flour
1/2 tsp baking soda
1/4 tsp salt
1 tsp Cream of Tartar
1 Tbs cinnamon and 3 Tbs sugar mix - for rolling dough balls in.
GingerSnap Dough
3/4 C butter
1 C sugar
1/4 C molasses
1 egg
2 C flour
2 tsp baking soda
1/4 tsp salt
1 tsp cinnamon
1 tsp ground cloves
1 tsp ginger
1/4 c sugar for rolling dough balls in
Instructions
Cream together the butter and sugar. Add the egg and vanilla and beat on medium speed until creamy and fluffy.
Add the flour, soda, salt and Cream of Tartar and mix well until combine.
The dough will be slightly crumbly. Combine the sugar and cinnamon in a bowl for rolling the dough balls in.
Now make your gingersnap dough
Cream together butter and sugar. Add the molasses, and egg and continue beating on medium speed until creamy.
Add the flour, soda, salt, cinnamon, ginger and cloves and mix until well blended. This dough will be more creamy than the Snickerdoodle dough.
Place the 1/4 cup sugar in a bowl for rolling dough balls.
Roll about a small walnut sized ball of each kind of dough into a ball, roll the gingersnap dough in the plain sugar and roll the snickerdoodle dough in the sugar and cinnamon mixture. Smoosh the two dough balls together, and gently squeeze until they are united, but not blended together.
They may look like they will separate at this point, but not to worry. Place on a parchment lined cookie sheet, and press the dough with the bottom of a flat cup. You'll get a kind of ying and yang looking cookie formation. I tried doing it first without smashing with the cup, but I liked the smashed ones better. They look more uniform in shape. continue making your dough balls and smooshing them together.
Bake at 350° for 11 min. Remove from oven and let cool a couple of minutes before removing to wire rack.
Clever Housewife https://cleverhousewife.com/