On my honeymoon to Carmel, I tried a sandwich I had never had before – Curried Chicken Salad. It was sooo yummy, and I knew I would need to try to recreate it. Because we often have tuna on hand, and it is more affordable, I thought I would try my own version of Curried Tuna Salad. I also struggle getting enough fish into my kids' diet, but I am more successful with tuna. There has always been the dilemma as to whether or not canned tuna was safe for kids or expectant mothers, but now with Safe Catch, you don't have to worry. Safe Catch sent me some samples to test out, and they worked perfectly for my Curried Tuna Salad!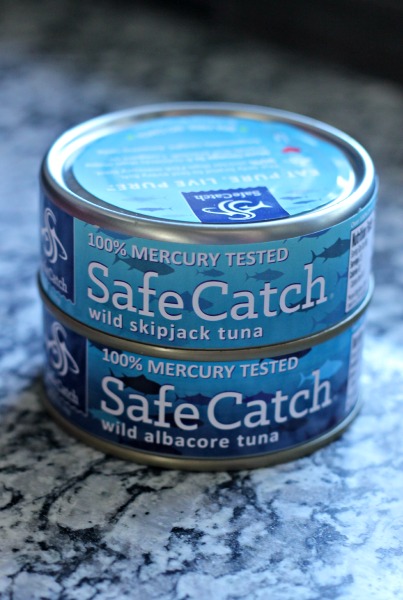 Safe Catch is the first canned tuna safe for expectant, nursing moms and kids! It has been tested and proven to be low in mercury, so it is completely safe. Something I discovered is you may not even need to drain Safe Catch tuna because it tends to be a bit more dry. Nothing a little mayonnaise and some spices won't fix! Adding the curry helps me get my Indian fix. Love me some Indian food.
The Curried Tuna Salad can be eaten as is, but I love to put it in my homemade naan, for a delicious sandwich. Any flatbread or sandwich bread will do, but curry and naan are just the perfect marriage.
Curried Tuna Salad
2015-05-25 16:10:05
Tuna Salad with a curry spin
Ingredients
1 can tuna, drained
3 Tbs mayonnaise
2 Tbs craisons
1 1⁄2 tsp curry powder
salt and pepper, to taste
Instructions
Combine all ingredients in a small bowl. Serve on naan or pita bread, with lettuce and red onion, as desired.
Clever Housewife https://cleverhousewife.com/
If you'd like to be eating safe tuna too, you are in luck! One Clever Housewife reader will win a 12-pack case of Safe Catch Tuna! The winner will have their choice between Wild Elite Tuna ($42 value) or Wild Albacore ($54 value). You can also find Safe Catch now in Sprouts stores! The giveaway will end at 11:59pm PT on 6/8. To enter, just fill out the form below.