This post is promoted by Target.
Decorating for each holiday is something I love to do, but let's face it – not all holidays are equal when it comes to decorations. I have Halloween, Thanksgiving and Christmas decor up for a month each, but the multitude of decorations is what can be astounding. For one thing, I don't have enough storage space to have 5 tubs of decor, for each and every holiday. To make up for my lack of decorations for the other holidays, I try to dress up everyday essentials, or decorate with food! I am going to teach you how to have the 4th of July Food Table must-haves using everyday essentials from Target.
By decorating with food, or dressing up plain white dishes and table linens, you can save money and storage space. Plus, who doesn't like to eat festive food? To create a festive, and delicious food table, let's start at the bottom and work our way up.
I am a fan of a plain white tablecloth that can be dressed up for any occasion. White is simple, understated, easy to clean, and plays nicely with all colors. I love my sturdy Threshold tablecloth for just $14.99 at Target.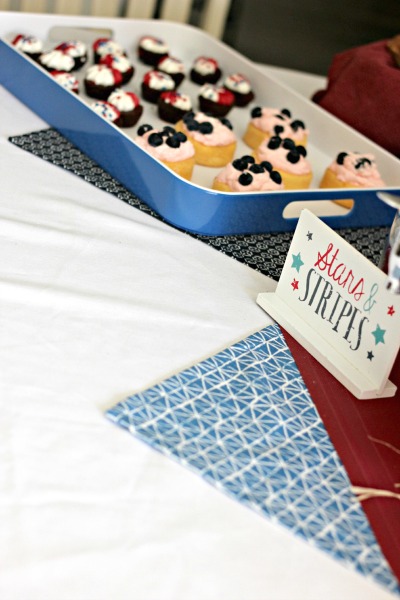 For the 4th of July and any other patriotic celebration, red, white and blue food is where I like to bring out the festive colors. First I start with a small pop of color (not in flag form), with shades of blue cloth napkins, set as diamonds on top of the white. I found this set of napkins in varying blues, on clearance at Target and I love that I can use them anytime of year because they aren't flag designs.
Now for the food. I am in love with the Simply Balanced line at Target. The foods and beverages are closer to clean eating, and they taste good.
For a beverage, I chose Simply Balanced Organic Lemonade and spiked it with Archer Farms Blood Orange sparkling soda. This gave the lemonade some carbonation and a fun red hue. You could even toss in lemon slices for a fun look.
I used my large bowl and tossed in the Simply Balanced blue corn tortilla chips, and white corn tortilla chips, to get that red, white and blue look. Serve with Simply Balanced organic salsa, for a little extra red, and yummy flavor.
For most occasions, especially in the middle of the hot summer, I am all about simplicity, and I don't love turning the oven on. I let Target's Market Pantry do the baking with their cute patriotic brownie bites. You can also purchase all of the ingredients to make your own.
I got a cute blue and white tray to display the brownie bites and patriotic shortcakes. All you need for these is a package of pre-made Tastykakes (found near the fresh berries) and top with my strawberry whipped cream and blueberries. So easy!
Add in your Target everyday essentials such as the Up and Up white napkins, paper plates and utensils in mason jars, and you're pretty good to go. Check out the Dollar Spot and the holiday aisle in Target for some extra splashes of red, white and blue. I just had to have the Stars & Stripes wooden sign, for my table. The seasonal m&m's are a great go-to festive food and get festive with the straws too!
Gotta love that you can get all of your party and everyday essentials at Target! This 4th of July Food table is so easy and quick to put together, and there's not a ton of holiday decor that needs to be stored.
What's your #TargetRun?