This summer I have been working with my kids on handwriting. I'd like to share 10 sneaky handwriting practice tips, all while having fun. Compensation was provided by BIC via MomTrends Media. The opinions expressed herein are those of the author and are not indicative of the opinions of BIC or MomTrends Media.
This summer I decided that it was important for my kids to work on handwriting. My son is going into 3rd grade, where he will be starting to learn cursive writing, and my preschooler is starting to want to write real letters, so it seemed like a good stage for them both to really get to work on handwriting. However, I am the type of mom who HATES sitting down and doing worksheets. Homework, is probably more torturous to me then it is for my kids, and I watch and wait for summer just to have a break from all those worksheets!
So instead of spending our summer writing and re-writing perfectly formed letters on handwriting worksheets, I decided to do some fun activities with my kids that would give us some opportunities to sneak in handwriting practice without my kids even knowing!
The first thing that I did was to stock up handwriting supplies, so that we would have nice new stuff to use for our activities. I bought each of my kids a couple of fun notebooks and mechanical pencils. I was sure to pick up some BIC Mechanical Pencils in cool designs, to help get them excited about handwriting. BIC Mechanical Pencils are great for this because they have break-resistant leads that write smoothly and erase cleanly, creating precise lines and promoting good penmanship. Plus their Xtra-Sparkle and Xtra-Shine models have fun light reflecting or sparkly designs making writing a little more fun!
Next I tried to plan fun activities for my kids that would allow for opportunities to practice our handwriting skills. Because handwriting is such an everyday necessity, it's easy to plan everyday activities that involve handwriting.
This summer my son wanted to build a tree-house so he earned money for supplies which he had to keep track of with a handwritten money tracking sheet. We then went to a hardware store, where he wrote down a list of supplies and costs. He also wrote down building plans and hand-drew blueprints which is all good practice for handwriting and creating precise lines. Because it was a fun project that he was excited about working on, he really took his time to make his handwriting look neat and nice, making it great handwriting practice!
To practice handwriting with your children, find a project that interests them and look for ways to incorporate handwriting into it. Here are a few more ideas of projects that we have done, or plan to do in the near future:
• Have your child be in charge of making dinner for the night. Have him write down a meal plan, write a shopping list, copy down the recipe, and write a fun menu to pass out to family members at mealtime.
• Write cards and letters to far-away family members and friends.
• Host a movie night for a few friends and have your child hand write invites to the event. On the day of the movie have her draw a movie poster and create a snack-bar board with a list of movie snacks on it. She could even write "admit one" movie tickets and draw "movie cash" for the snack bar.
• Have your child create a song or poetry book with original work, and have a him do a reading for the family.
• Work on a science project together and have your child write down a hypothesis, test results, findings and a scientific conclusion.
• Go on a nature walk and write down what you observe.
• Find a "learn to draw" book at a bookstore or library. Following the guidelines for drawing the different figures is great practice for creating precise lines and using proper writing techniques.
• Go outside and draw or write with sidewalk chalk.
• Do core strengthening activities! My friend who is an Occupational Therapist is always stressing to me the importance of a strong core in handwriting and other fine motor activities. So get outside and have your kids play on the monkey bars, go swimming, swing, bounce on an exercise ball or do yoga with you. All of these activities will build their core and strengthen their handwriting abilities.
• Take the BIC "Fight For Your Write pledge saying that you are going to commit to encourage good handwriting at home and in your community. This is a great way to remind us as parents that handwriting is an important part of our child's success, as it is so important to everyday life. While you are there you can also sign up to get emails filled with more tips and advice to help you save handwriting. Also, just for taking the pledge, you are entered into BIC's "surprise 30th birthday" sweepstakes where you could WIN a $1,200 BIC Prize Pack to help you and your family write more at home. (No Purch Nec., U.S. only, 18+. Ends 9/14/2015. For details and full rules visit www.bicfightforyourwrite.com). You can also post and follow #BICFightForYourWrite.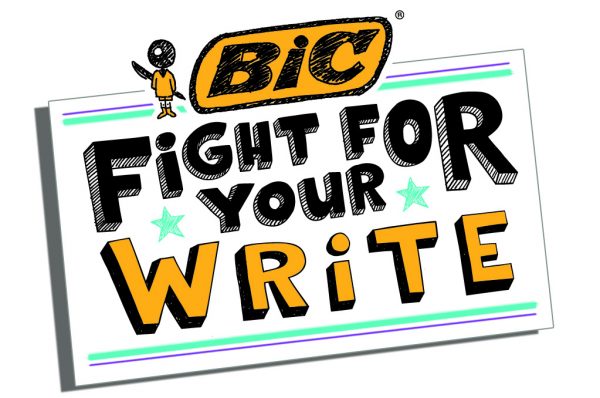 With BIC and these fun activities I have learned that handwriting doesn't need to be confined to worksheets. It can be an exciting and important part of everyday activities and can be a useful and successful aspect of my kids' daily lives. Fight for the Write today, to build this skill in your own child's life!