A pet peeve of mine is losing stuff. It drives me nuts. I know if I keep looking hard enough I'll find it. But when it comes to losing stuff from the computer, there's no amount of searching that will bring stuff back. When it's gone, it's gone. And to make me more crazy, I just learned that most archiving sources are not permanent. Recent research shows that most forms of digital storage start to break down in just 6 months. DVD's, Hard Drives and Flash Drives only have a life span of 3-5 years. The Cloud is a good digital storage option, but data losses and data corruption does occur. Plus there's the risk of accessibility and privacy. If your data is precious, archive technologists recommend at least one hard copy of your own, and that's where my sponsors at M-DISC come in.
Most families and individuals create lots of digital information. How important is your information to you? Is your pool of information irreplaceable – think photos, videos, documents, family histories, and genealogies? Chances are you haven't burned a CD or DVD in years, but optical media is making a comeback as the best source for holding important data for years – or even centuries.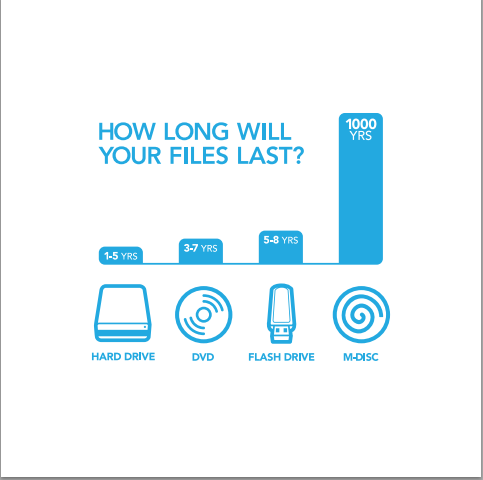 M-DISCs hold data for a 1,000 years and beyond. Your information is literally engraved in stone. What makes M-DISC so unique is the stonelike layer where data is embedded, making it resistant to heat, humidity, magnetism and the scary EMP (electro magnetic pulse that will shut down all electronic access. I read a book about this and vowed to store all my batteries in a foil covered container). Here's a short video that explains the personal archiving process.
Here's some simple steps to home archiving:
1. Think about the information you want to preserve for a lifetime. Certainly not all your data, but photos, videos, and important documents.
2. Resist the urge to be perfect in your selection – don't worry about weeding through and labeling everything. It's more important to just get started. An M-DISC can store a lot of information – like 100 gigabytes!
3. If you don't have access to an optical drive, get one. Amazon, or any electronic store will carry them, but be sure to look for the M-DISC logo on the box. M-DISC works in any Blu-ray writer. For a list of suggested drives visit M-DISC.
4. Check out M-DISC's guide to EZ Disc Burning.
5. Find a good place to store your discs, once you've loaded your important information. Think about burning 2 duplicate discs and storing one at home in a safe place, and maybe one at work or another family member's home. Archivists believe that multiple copies in different locations is the safest method.
Now, I'm not the most computer savvy person out there – hardly!! But I will tell you, M-DISC sent me a portable Blu-ray writer. I went through the process of connecting it, going through all the necessary downloading steps, then I selected some digital photo files to archive onto the M-DISC. And . . . I DID IT! If I can do it, so can you. I love having the peace of mind that I won't lose this important stuff. I have a small fireproof safe I'll keep my M-DISCs in and I'll keep a duplicate at another safe location. It was hard to resist the temptation to clean up all my files before I burned the disc. But now I have the motivation to spend some time cleaning up my files, and then burning some new discs.
Give yourself some peace of mind, and save those precious photos, videos and documents by Engraving Them in Stone with M-DISC.