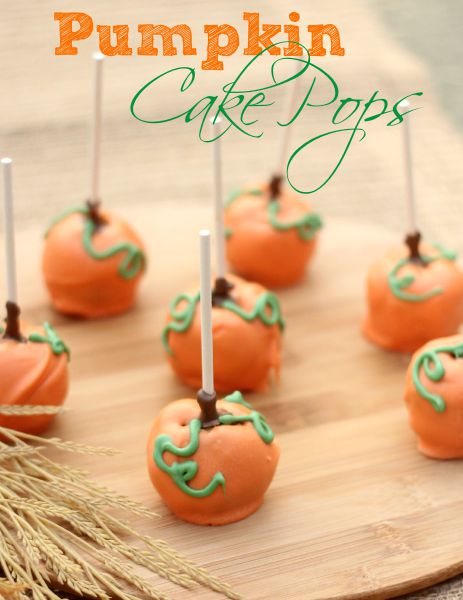 Fall is so close I can almost taste it – literally! Today is the first cooler day we have had, and I am over the moon excited about it. There is even a chance of rain tonight; which my dry, burning state really needs. So what else is there left to do, but think of pumpkin? This is my favorite time of year and my Pumpkin Cake Pops are just one of the many reasons.
I try to always have pumpkin on hand, but I don't always have a spice cake mix. So, I've learned to make my own spice cake using a Pillsbury Traditional Vanilla Cake Mix and a can of pumpkin. The right amount of spices and yumminess will occur.
Cake pops used to intimidate me, and I didn't think they would ever look good if I made them. I finally bit the bullet, and I was surprised with how well they turned out. I think part of the trick is actually using melting chocolate because it doesn't harden as quickly as say melting chocolate chips. Just make sure you get enough, to make dunking each pop a breeze.
What I love about these Pumpkin Cake Pops is that they don't just look like adorable pumpkins – they taste pumpkin-y too. Whether you are hosting a Halloween Party, a Fall Festival, or perhaps celebrating a birthday, then these yummy bites of cuteness will be a big hit.
Did you know that this year (2015) marks the Pillsbury Doughboy's 50th birthday? I can't believe it! Come October, I will be celebrating my twins' 10th birthday, and perhaps we'll just have to invite the Pillsbury Doughboy over to celebrate. With the help of Pillsbury cake mixes and frosting, the party is sure to be a hit. I can tell you that the boys are loving these cake pops and are busy coming up with another way to decorate them for their birthday.
The trick to keeping the balls of cake onto the stick is to first freeze the handmade balls for 30 minutes. Then melt a little chocolate and dip the stick into it , just about an inch deep. Then immediately press the dipped stick into the center of a cake ball. The chocolate will ooze up the stick, but you can either cover with more melting chocolate, or leave for a pumpkin stem, as I did.
Pumpkin Cake Pops
2015-09-14 19:40:32
For cake
1 box Pillsbury Traditional Vanilla cake mix
1 Tbs pumpkin pie spice
1 tsp cinnamon
15 oz pumpkin puree
3 eggs
1/2 cup applesauce
1/3 cup milk
2 tsp vanilla extract
For pops
1/3 cup Pillsbury vanilla frosting
36 sucker sticks
1 bag cocoa candy melts (or chocolate chips)
3 bags orange candy melts
1 bag green candy melts
Instructions
Preheat oven to 350° and grease a 9x13 baking dish.
Combine all cake ingredients in a mixing bowl. Mix at medium speed for 2 minutes, occasionally scraping the sides.
Pour batter into prepared baking pan and bake for 30 minutes, or until an inserted toothpick comes out clean.
When cake has completely cooled, crumble into a large mixing bowl, and stir in frosting.
Form 1" balls, using your hands. Place on a large cookie sheet, or in a plastic container, and freeze for 30 minutes.
Before removing cake balls from freezer, prep the cocoa candy melts. Place about 1/4 cup of melts into a small bowl and microwave in 30 second increments, stirring in between. Cook until just melted.
Dip sucker sticks into the chocolate, covering about 3/4" of one end. Then immediately stick at least halfway through a cake ball. Hold the ball in the air, with the stick below it, so the chocolate will start to drip down the stick. Use a second stick to help spread it down the stick just a little bit.
Repeat with remaining cake balls. By the time you are finished, it will be time to melt the orange candy melts. Melt in 30 second increments, stirring in between. It will take nearly all three bags to cover 36 cake pops.
Holding the cake pop by the stick, dunk each one into the melted orange candy. Use a spoon to carefully bring the chocolate all the way up to the top, careful not to cover the chocolate already on the stick.
Return the now orange cake pop to a piece of waxed paper. Repeat with remaining pops.
When the orange is completely set up, melt a half cup of green candy melts and place into a squeeze bottle. You can also use a piping bag and small frosting tip. Squeeze vines and/or leaves onto the top of each cake pop.
Voila, pumpkin spiced pumpkin cake pops!
Clever Housewife https://cleverhousewife.com/