That super busy time of year has hit my family and I love it! Between birthdays, holidays and vacations, things are a tad crazy around my house. I love the celebrations, yummy foods, weather changes and happy faces. Just today we celebrated my twin boys' 10th birthday, in style. With the newest Star Wars movie coming to theaters so soon, we just had to have a Star Wars Party with costumes.
The fantastic thing about having a birthday near Halloween is that you can have some awesome themed birthday parties that can double as Halloween parties. As I frequently do, I turned to some of my favorite online party sites for supplies: Birthday Express and BuyCostumes.com.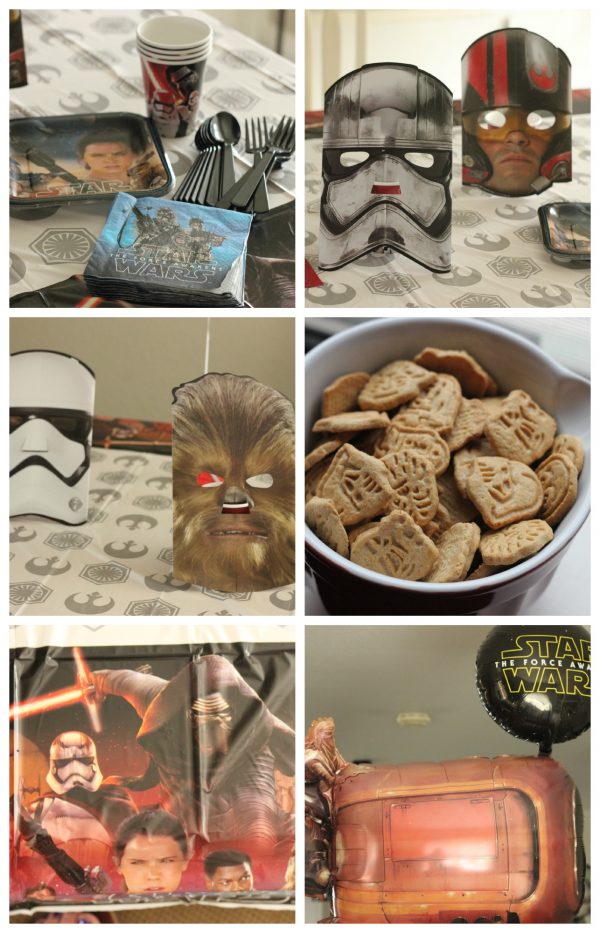 We weren't planning a huge party for C&B's birthday, but we definitely wanted to have some fun so I got some basic necessities for a themed cake table. Honestly, I was impressed with the pricing of a lot of the party supplies. The Star Wars 7 The Force Awakens Snack Party Pack, complete with plates, napkins, cups and silverware for 8, is just $6.97! Then I tied in a plastic tablecover, masks and a jumbo land cruiser balloon.
I filled in any gaps with some of my own personal touches, such as the hot tamale filled light saber. I had a skinny vase kicking around the house and I thought, wouldn't it be fun to turn it into an edible light saber? So I filled the bottom with silver chocolate balls and the remainder with hot tamales. Blue jelly bellies would work for a blue light saber.
Of course, no birthday party would be complete without a cake! I consider myself an amateur when it comes to cake decorating, but luckily you can purchase pre-made black fondant, and with the help of Star Wars images, I made the rest happen. It was super tasty too.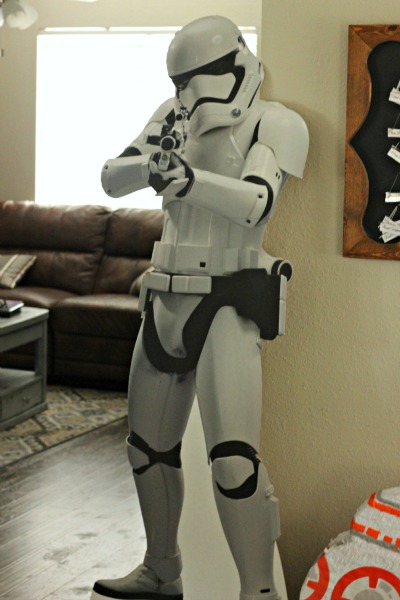 My two favorite party supplies from Birthday Express were the 6 ft tall Stormtrooper and the BB-8 Pinata. I get a kick out of the stormtrooper in my house because every so often it catches me off guard, and I think it's real. The twins will definitely be hanging onto this guy for a while, in their room.
The BB-8 pinata is one of those pull-string pinatas that is so great for kids. Because my kiddos are a bit older, we opted for the traditional ol' bat. This pinata holds so much candy!
Now for the costumes, we really had some fun. BuyCostumes has such a large selection of costumes that you are sure to find something for everyone. Since the party was for the twins, they went for a Clone Trooper and Commander Fox. I could tell by the reviews on the website that these were going to be high quality costumes, and indeed they were. I'm grateful for quality costumes because we usually have 3-4 different Halloween parties to attend during the week of Halloween.
BuyCostumes isn't just for human costumes either! I ordered an Ewok costume for Miss Lucy, and my mom made a sash for Chloe to be Chewbacca. Aren't they quite the pair? My kids always tease that Chloe looks like Chewbacca (aka Chloebacca) so it is quite fitting.
As you can see, we are having loads of fun over here this October! I'd love to see what costumes and supplies you are picking up this year.