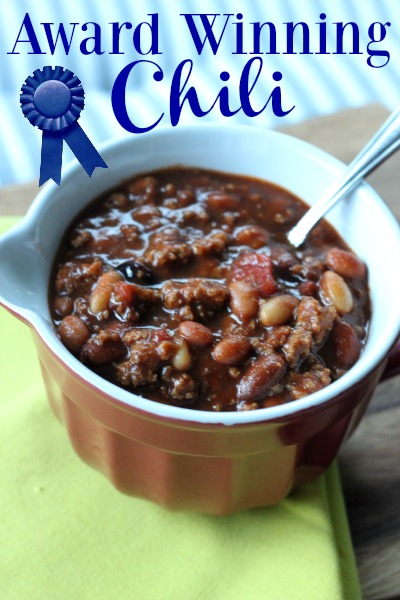 You all should know how much I value my readers, because I'm going to let you in on a family secret! Nothing says welcome home on a chilly Fall or Winter day than a warm cup of hearty soup or chili. I could eat a hearty soup every day from November – March, but the hubs prefers something a bit more substantial, so chili is often on the menu. And then there's the veritable Chili Cook-Off that comes along now and then, so my Award Winning Chili has to make an appearance. Not to boast, but I have won a ribbon or two over the years (small time competition).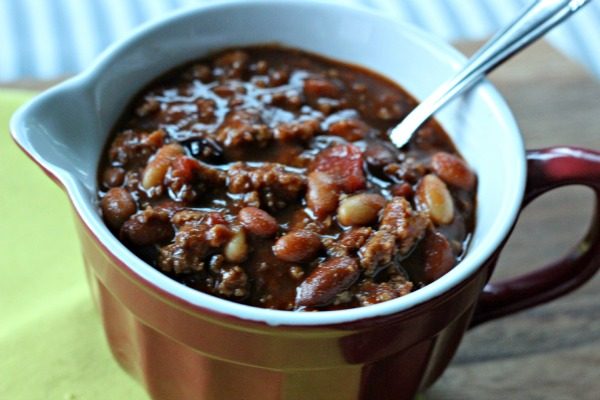 There's really nothing difficult or demanding about my chili recipe, but a few key ingredients are what add the special zip and flavor that calls you back for a second bowl. Then, of course, chili is always better the next day for lunch, or a repeat dinner. I usually like to make a big enough pot to freeze a quart for an emergency rainy day chili dinner.
Many years ago, I found a great chili spice mix. You can use your own spices, but for me I love Carroll Shelby Chili Mix. You can find it in the spice section of your grocery store in a little brown bag. Now here's the big secret – are you ready? Grape jam! Add a minimum of a 1/4 cup of Smucker's Concord Grape Jam. I usually don't even measure, I just spoon in a few big glops and stir until it melts. Without fail, people ask me what that great flavor is, and what gives the chili such a nice consistency. Yeah – grape jam. I got the idea, and famous recipe, from my mom. She can't recall where she came up with the idea, but we're all sure glad she did. It almost doesn't matter what you like in your chili, as far as meat preference ( ground beef, ground turkey, sausage, steak), or bean preference (kidney, chili beans, cannellini, great northern) or even a veggie or two, so long as you add the Smucker's Grape Jam.

Give it a try, and see what opinions are offered to you. I'd be eager to hear. It's always good to have a supply of Smucker's jellies and jams on hand, but make sure you keep some handy for your next batch of chili.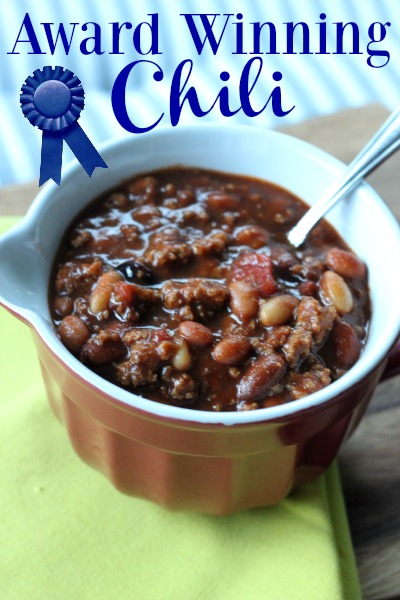 Award Winning Chili
2015-11-21 01:36:52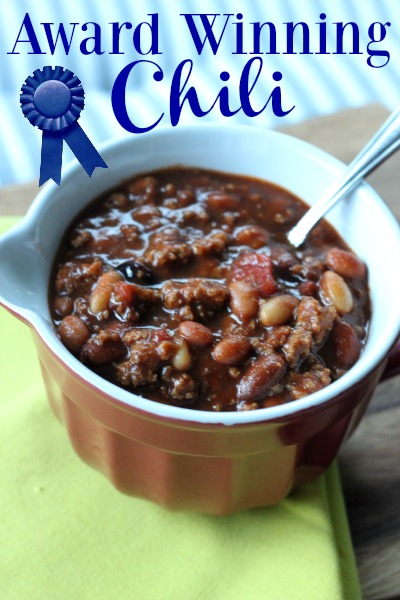 Award winning chili recipe with a secret ingredient
Ingredients
2 lbs ground turkey
Carroll Shelby's Chili Mix
8 oz tomato sauce
8 oz water
1 can of stewed tomatoes
1 can of kidney beans, drained
1 can of great northern beans, drained
1 can of pinto beans, drained
1 cup Smucker's Grape Jam
Instructions
Brown ground turkey in a large pot, over medium-high heat.
To the ground turkey, add all ingredients except the jam. Stir until combined.
Stir in grape jam and simmer, covered, for 15-20 minutes.
Enjoy!
Clever Housewife https://cleverhousewife.com/