Any night is a good night for comfort food and an easy recipe you can serve up for the family! I grew up on Tater Tot Casserole, and my kids now get excited whenever I serve it up. This is one of those dinners with only 6 ingredients and very little prep work, and gets gobbled up in no time at all. I will warn you though, we never have leftovers when I make this!

Traditional Tater Tot Casserole is made with ground beef and cream of mushroom soup. Not much to it other than topping it with tater tots and cheese. However, I am on a venture to live a more healthy fulfilling life, wherever I can. I don't believe in sacrificing flavor for nutrition, and I still like to give my kids those comfort meals that I grew up on. So, I have made a couple of slight alterations to the recipe I grew up on.
For starters, I swap ground beef for ground turkey, for a leaner meat. I don't know about you, but I personally think ground turkey needs a little help in the flavoring department. It's great stuff, if you know how to cook it right. That's where The Blend comes in.
What is The Blend, you might ask? This is when you blend finely chopped mushrooms with meat to create more delicious, nutritious and sustainable meals.
HOW TO BLEND:
1. Chop up your favorite mushroom variety to match the consistency of the ground meat.
2. Blend the chopped mushrooms with the ground meat.
3. Cook your mushroom-meat blend to complete the recipe.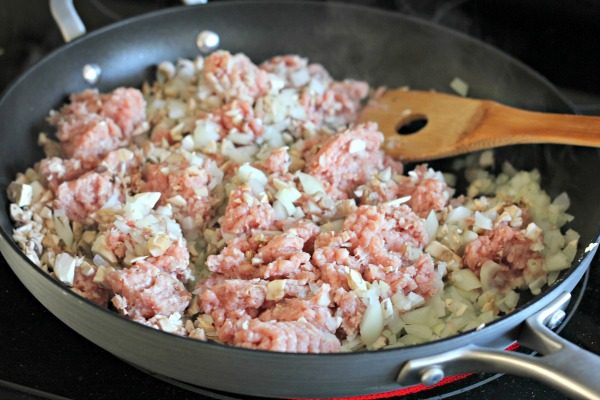 Tater Tot Casserole already has cream of mushroom soup in it, so it isn't far fetched to add MORE mushrooms. If you chop them finely, then the kids won't even notice them – mine didn't! The Blend helps you do better for your health: Mushrooms are fat free, cholesterol free, low in calories, and provide important nutrients like vitamin D, B vitamins, antioxidants and potassium (9%). I love the added benefit by adding the extra mushrooms, but it also helps tremendously with the flavor!
To learn more about the blend, and snag some extra recipes, visit the Mushroom Council. Now for that delicious recipe….
Tater Tot Casserole
2016-04-07 17:06:57
Serves 6
Ingredients
1 1/2 lbs ground turkey
1/2 yellow onion, chopped
3/4 cup mushrooms, finely diced
1 can cream of mushroom soup
frozen tater tots
1 cup shredded cheese
Instructions
Preheat oven to 350°.
In a large frying pan, saute turkey, onion and mushrooms until meat is cooked through and vegetables are tender. Toss in can of soup and stir.
Pour meat mixture into the bottom of a 3qt casserole dish. Top with frozen tater tots (as much as you'd like). Sprinkle cheese over the top.
Bake for 35 minutes, or until tater tots are golden.
Clever Housewife https://cleverhousewife.com/
I was selected for this opportunity as a member of Clever Girls and the content and opinions expressed here are all my own.