In honor of today's box office release of Finding Dory, I want to show you some of the awesome Finding Dory products which can be found at the Disney Store! If your kids are anything like mine then they like to have fun paraphernalia to go along with their favorite movies. Accomplishing this task should be easy for Finding Dory fans because there are some seriously cute items on the market! While you get your shopping done, be sure to take advantage of Summer Play Days at Disney Store.
Throughout the summer, Disney Store has kid-friendly activities and events daily! Each store has a different schedule, so be sure to visit your location to get a schedule and stay on top of the fun. You will be able to take part in activities such as story time, trivia, Art of Drawing, and more.
Each Wednesday through September 5th, a new Tsum Tsum wristband will be released to Disney Store Summer Play Days participants. Simply participate in an event and get that week's wristband. If you attend each week for the entire summer, and bring all of the wristbands back to the store (don't worry, you will get them back), you will receive 3 extra special wristbands!
Now for the shopping….
If stuffed animals are your thing then Disney Store has you covered. From large plush Nemo, to Dory, to Hank and Destiny, you'll be snuggling cuteness in no time. If you are a collector of the Tsum Tsum line, then you'll be set with those too. Disney Store has all of the Finding Dory paraphernalia you could want!
I love the variety of toys, gadgets, books, and plus you can get at the Disney Store. During your checkout, be sure to take a peek at what's behind the registers because the Finding Dory shopping bags make for great grocery store bags. Who doesn't want to grocery shop in style? I've got a few that I plan to take to my next grocery run.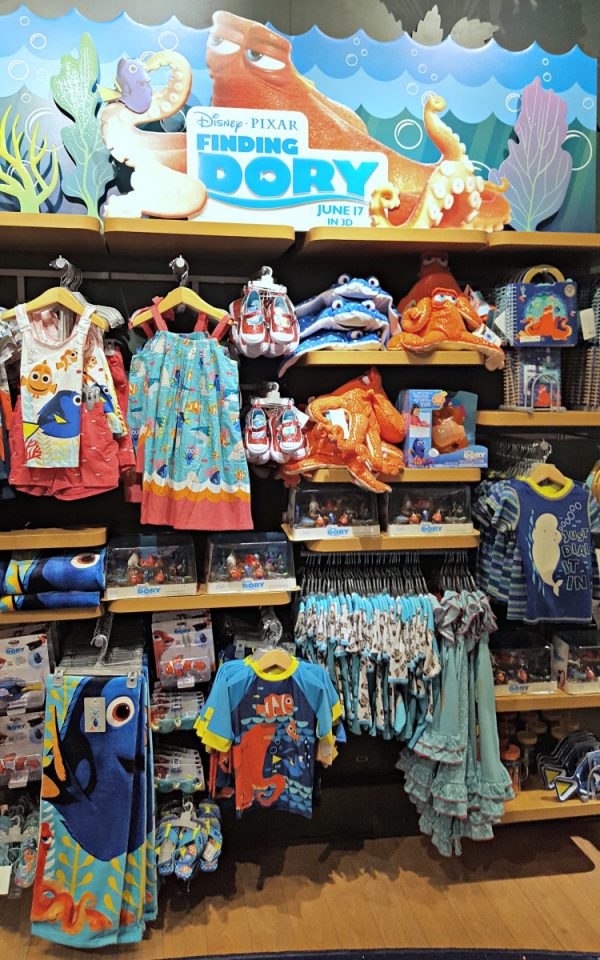 Not only are there great summer outfits for boys and girls, but there are some seriously fun swim gear. The goggles are my personal fave, but the beach towel and swimming toys are extra fun too. There really is something for everyone!
While checking out the Summer Play Days, I just had to pick up this adorable Finding Dory nightshirt for my daughter. She loves it and it is holding up really well. Now to get her out of it so I can wash it!
There is so much fun to be had while shopping at the Disney Store. Plus, now through the weekend, get free shipping on all orders that include at least one Pixar item! Use code FREESHIP at checkout.