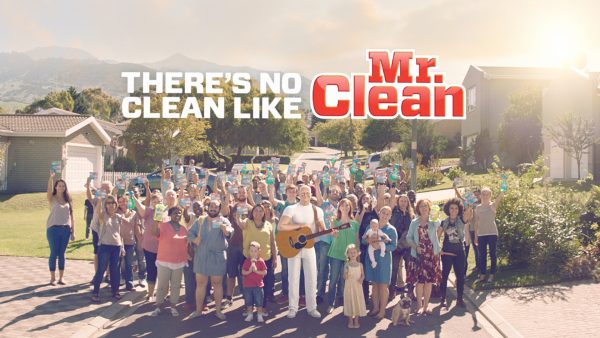 It's #FlashbackFriday, and I've got a real treat for you! I love the whole TimeHop thing, where you can see what you were doing this day a year ago, two years ago, 7 years ago, and so on. Mr. Clean is taking us all the way back to 1958, with a revamped jingle TV spot. Just launched today is the Mr. Clean Jingle, which sounds an awful lot like 1958, but the video has been updated quite a bit.
My mom was 6 when the first Mr. Clean jingle was released, and she recalls thinking Mr. Clean was a stud. She didn't know any dads who looked like him, or who worked out and looked buff. Everyone wanted Mr. Clean products in their home! Jingles were "the thing"! I think they still are, as my kids love singing jingles. They have so many memorized, and love mixing them up and having fun with them.
Mr. Clean's classic 1959 jingle transcends generations through the power of music-based creative, and returns with a modern twist for the millennial household. You see moms, dads, and kids alike, all loving and using the product in every room of the house. They had some fun with it and added a rock band, and a man in the bathtub! The revamped jingle TV spot features Mr. Clean, the legend who changed how people clean by being tougher on dirt, all around the house.
Do you remember the original jingle? What memories does it bring back for you?