Oh my how October has been a very busy month, and we're only just beginning the second half of it. You know what always makes me feel better when I'm overwhelmed (or even sad)? CUPCAKES! Cupcakes are adorable and comforting, and can be switched up in so many different ways. Perhaps you have a cake walk at an upcoming Halloween party – cupcakes are the perfect prize. I used to think cupcakes took more time than they were worth, but when I discovered you can load those little babies with tons of frosting, I was all in. You can't really do that with a slice of cake!
This week, we are selecting our favorite cupcake recipes from Delicious Dishes Recipe Party #40. Check them all out and be sure to link up your favorite recipes this week.
If you're new to the party, each Tuesday at 6am CST, a new linky party, featuring some of the best recipes around the web, will be live on my site, as well as some friends' sites. I hope you will take a moment each week to check out some of the amazing recipes, and even link up some of your own!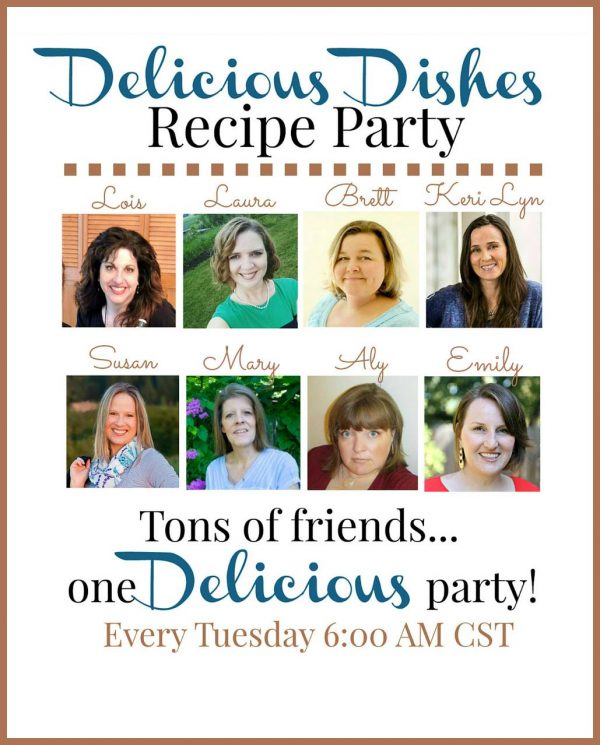 First let me explain a little more of what this is all about!
Delicious Dishes is a weekly link party where bloggers can share their most delicious recipes all while checking out the amazing recipes that other bloggers are sharing.
Each week we will be featuring our favorite recipes from the week before and pinning them to our Delicious Dishes Pinterest board.
We hope you'll have fun with our party…we know we will!
Let's meet the members of Delicious Dishes Recipe Party!
And remember, each recipe you share here will be seen on each of the blogs listed below:
Bunny's Warm Oven
Blog / Facebook / Pinterest
Cooking in Stilettos
Blog / Facebook / Pinterest
5 Minutes for Mom
Blog / Facebook / Pinterest
Food Fun Family
Blog / Facebook / Pinterest
She Saved
Blog / Facebook / Pinterest
This Mama Loves
Blog / Facebook / Pinterest
Walking on Sunshine Recipes
Blog / Facebook / Pinterest
Clever Housewife
Blog / Facebook / Pinterest
THE RECIPES WITH THE MOST CLICKS LAST WEEK WERE:
#1: 15 Fun and Creepy Halloween Dinner Recipes from Cupcakes and Kale Chips for Community Table
#2: Easy Taco Dip from Coupons and Freebies Mom

#3: Mini Walnut Cinnamon Buns from The Chef Next Door
DELICIOUS DISHES PARTY FAVORITES FROM LAST WEEK
Here are the recipes the hosts loved most:
Strawberry Cupcakes from Cookie Dough and Oven Mitt
Pumpkin Pie Spice Cupcakes from The Chef Next Door
Fall Owl Cupcakes from Generations of Savings
Harley Quinn Cupcakes from Generations of Savings
Orange Cranberry Cupcakes from Try Anything Once Culinary

Salted Caramel Cupcakes from Pass the Sushi
Spooky Buttercream Peanut Butter Cupcakes from Generations of Savings
English Toffee Cupcakes from Food Fun Family
This is something you will want to check in on from week-to-week, to see how your recipe fared, and to keep joining the fun!
Best of all, we pin all of your submissions!
Follow us along on our NEW Pinterest board.


Now let's get this Delicious party started!