Calling all Bachelor fans! I've been watching ABC's The Bachelor for years and I have to say my favorite season was that of Ben Higgins. He was a downright gentleman and always had the ladies' feelings in mind. The season ended with Ben choosing Lauren Bushnell to be his wife, and we've all been eagerly waiting to see if they get their happily ever after. Wait no more because we can all watch Ben and Lauren weekly on Freeform's Ben and Lauren: Happily Ever After?
Tuesday nights at 8pm EST on Freeform, watch Ben and Lauren navigate through life after The Bachelor, get used to living together, and even plan their wedding. I got to interview the couple and discuss what life is really like for them, and what happens next. For a few months of filming, camera crews follow the now-famous TV couple from the time they wake up, until 8pm, and we get to see their fairy tale love story come full circle. I was pleased to hear from Lauren that the couple discusses everything so there really aren't any surprises when the show airs. Their communication is great – "almost too good."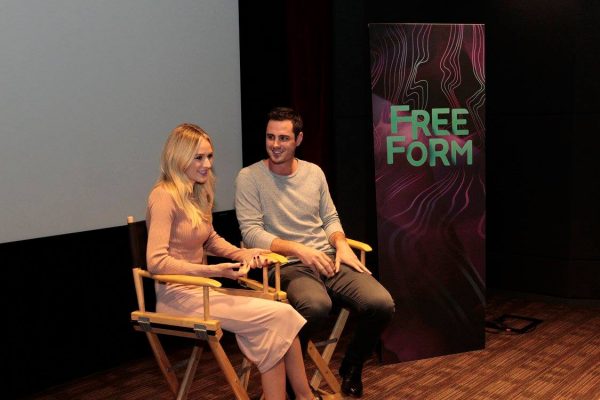 Two episodes of Ben and Lauren: Happily Ever After? have already aired and we learn that Laurn is quite the prankster, which Ben kind of loves. Ben has a huge fear of singing in public (he's not a singer) so Lauren sets it up for the Colorado Rockies to ask Ben to sing the National Anthem for the game opening. It's all a joke of course, but Lauren lets Ben stress and practice all the way until someone else gets announced to sing. So many good laughs, but it's fun to see the two of them come together and love each other through the good and the bad.
In last week's episode, Chris Harrison asks the couple if they will allow ABC to televise their wedding. That means one big fancy wedding, so who could turn that down? Tune in each week to follow the TV couple's love story, each Tuesday night on Freeform. If you're a fan of The Bachelor, you'll love watching Ben and Lauren: Happily Ever After?
Airing right after Ben and Lauren: Happily Ever After? is another new series called The Letter. I saw the first episode, about friends who write a letter, expressing how they really feel. They then give the friend a challenge for the week. It's really kind of fun. So after you watch Ben and Lauren, stay tuned for The Letter at 9pm EST on Freeform.