Spring break is next week and I cannot wait! Lazy mornings and Easter prep are on the horizon. I typically love decorating for every holiday, but I've got to admit I'm behind on Easter decorating this year. Now it's to the point where I'm trying to decide if it's so late I ought to skip it altogether, or if I should go ahead and throw up some simple decorations. What do you think? Or I could spend my time practicing these cute Easter treats in this week's feature!
Get some ideas and check out our favorite cute Easter treats from last week's party and be sure to link up any of your favorite recipes this week.
If you're new to the party, each Tuesday at 4am PST, a new linky party, featuring some of the best recipes around the web, will be live on my site, as well as some friends' sites. I hope you will take a moment each week to check out some of the amazing recipes, and even link up some of your own!
We love this weekly party that was created to showcase recipes from our foodie friends. In addition to each host choosing a FAVORITE recipe to be featured on all EIGHT blogs every week, each host will visit their favorite's blog and pin a bunch of their great content to their Pinterest boards. We'll also pin our FAVORITE recipe in our Delicious Dishes group board.
That's a TON of exposure! So get your recipes ready. We can't wait to see what's cooking in your kitchen this week.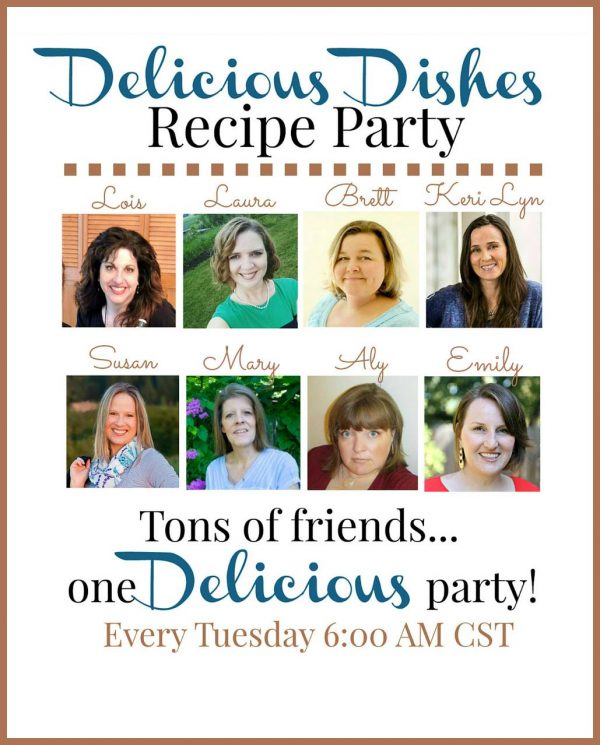 First let me explain a little more of what this is all about!
Delicious Dishes is a weekly link party where bloggers can share their most delicious recipes all while checking out the amazing recipes that other bloggers are sharing.
Each week we will be featuring our favorite recipes from the week before and pinning them to our Delicious Dishes Pinterest board.
We hope you'll have fun with our party…we know we will!
Let's meet the members of Delicious Dishes Recipe Party!
And remember, each recipe you share here will be seen on each of the blogs listed below:
Bunny's Warm Oven
Blog / Facebook / Pinterest
Cooking in Stilettos
Blog / Facebook / Pinterest
5 Minutes for Mom
Blog / Facebook / Pinterest
Food Fun Family
Blog / Facebook / Pinterest
She Saved
Blog / Facebook / Pinterest
This Mama Loves
Blog / Facebook / Pinterest
Walking on Sunshine Recipes
Blog / Facebook / Pinterest
Clever Housewife
Blog / Facebook / Pinterest
THE RECIPES WITH THE MOST CLICKS FROM PARTY 60 WERE:
#1: Soft Sweet Light Rolls from Joyful Homemaking
#2: Homemade Bacon from Hey Fitzy
#3: Doritos Crusted Chicken Fingers from The Black Peppercorn

Before I get to our host favorite Easter treats, I want to share one of my own family favorites:
Easy and Affordable Easter Centerpiece
DELICIOUS DISHES PARTY FAVORITES FROM LAST WEEK
Here are the recipes the hosts loved most:
Baby Chick Cupcakes from Rose Bakes
DIY Chocolate Easter Eggs from Gluesticks Blog
Crispy Rice Easter Egg Treats from Kids Activities Blog
Spring Bunny Treats for Kids from 5 Minutes for Mom
Carrot Garden Easter Cupcakes from Cincy Shopper


Easter Bunny Cupcakes from She Saved
Easter Pretzel Chick Treats from Cincy Shopper
Hand Dipped Chocolate Covered Carrots from Life with Heidi
This is something you will want to check in on from week-to-week, to see how your recipe fared, and to keep joining the fun!
Best of all, we pin all of your submissions!
Follow us along on our NEW Pinterest board.


Now let's get this Delicious party started!