Whether you're already in back-to-school mode, or you're just feeling the middle of summer angst of "what else can I feed my children," we've got you covered. I'm somewhere in-between. This past week has been full of doctor checkups and 7th grade immunization boosters. However, I've also realized we haven't taken the boat out once this summer, which means we better get busy squeezing more fun in before school starts back up. One thing is for sure, the kids are ready for me to change up our menu and snacking. The Delicious Dishes Recipe Party hosts took last week off due to the holiday, but we're back at it this week with Kid-Friendly Snacks. Many of these are just so darn cute that the kids will have fun creating them and eating them!
Check out these recipes and be sure to link up your favorite summer recipes below!
If you're new to the party, each Tuesday at 4am PST, a new linky party, featuring some of the best recipes around the web, will be live on my site, as well as some friends' sites. I hope you will take a moment each week to check out some of the amazing recipes, and even link up some of your own!
We love this weekly party that was created to showcase recipes from our foodie friends. In addition to each host choosing a FAVORITE recipe to be featured on all EIGHT blogs every week, each host will visit their favorite's blog and pin a bunch of their great content to their Pinterest boards. We'll also pin our FAVORITE recipe in our Delicious Dishes group board.
That's a TON of exposure! So get your recipes ready. We can't wait to see what's cooking in your kitchen this week.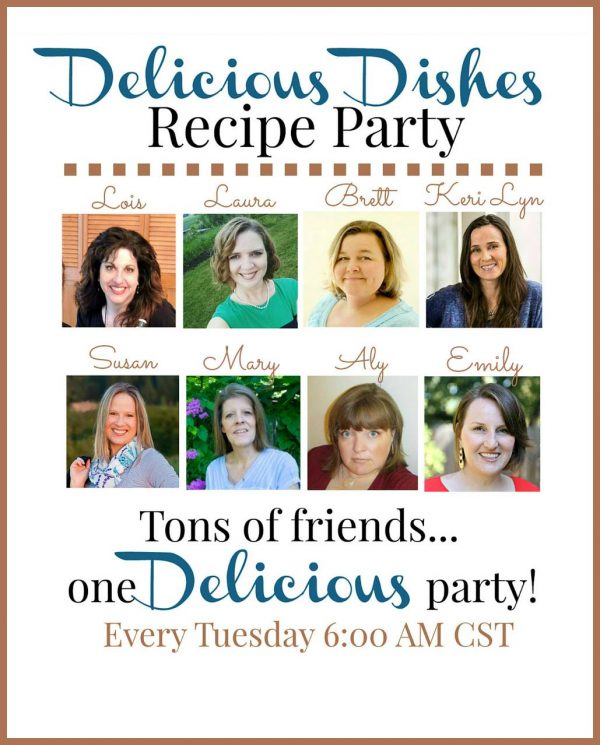 First let me explain a little more of what this is all about!
Delicious Dishes is a weekly link party where bloggers can share their most delicious recipes all while checking out the amazing recipes that other bloggers are sharing.
Each week we will be featuring our favorite recipes from the week before and pinning them to our Delicious Dishes Pinterest board.
We hope you'll have fun with our party…we know we will!
Let's meet the members of Delicious Dishes Recipe Party!
And remember, each recipe you share here will be seen on each of the blogs listed below:
Bunny's Warm Oven
Blog / Facebook / Pinterest
Cooking in Stilettos
Blog / Facebook / Pinterest
5 Minutes for Mom
Blog / Facebook / Pinterest
Food Fun Family
Blog / Facebook / Pinterest
She Saved
Blog / Facebook / Pinterest
This Mama Loves
Blog / Facebook / Pinterest
Walking on Sunshine Recipes
Blog / Facebook / Pinterest
Clever Housewife
Blog / Facebook / Pinterest
THE RECIPES WITH THE MOST CLICKS FROM PARTY 75 WERE:
#1: Homemade Ranch Seasoning Mix from Grounded and Surrounded
#2: Homemade Bisquick without Shortening from Coupons and Freebies Mom
#3: Coconut Surprise from Simply Stacie

Before I get to our host favorite Kid-Friendly Snacks, I want to share a few of my own family favorites:
Macadamia Puppy Chow

Peanut Butter and Banana Pudding Pops

DELICIOUS DISHES PARTY FAVORITES FROM LAST WEEK
Here are the recipes the hosts loved most:
Quick and Easy Cinnamon Pretzels from My Heavenly Recipes

Chocolate Chip Oatmeal Cookie Bars from The Monday Box
Monster Cookie Dough Dip from Cookie Dough and Oven Mitt

No Bake Chocolate Peanut Butter Cereal Bars from Meatloaf and Melodrama
Watermelon Rice Krispie Treats from My Heavenly Recipes


Decorated Fudge Brownies from The Monday Box
Pecan Pie Muffins from Joyful Homemaking
Raspberry Lemonade Yogurt Popsicles from Cookie Dough and Oven Mitt
This is something you will want to check in on from week-to-week, to see how your recipe fared, and to keep joining the fun!
Best of all, we pin all of your submissions!
Follow us along on our NEW Pinterest board.


Now let's get this Delicious party started!