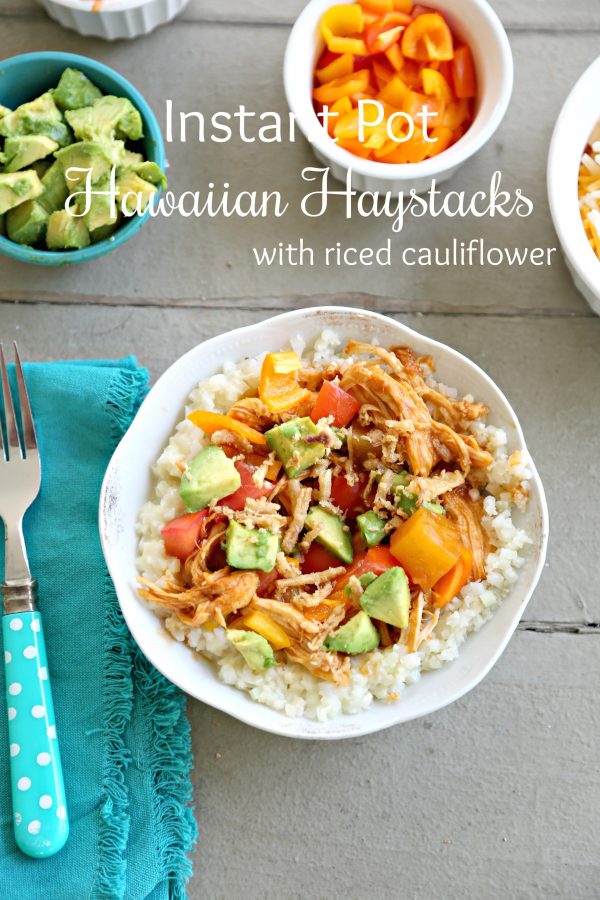 Summers are for quick and easy meals that don't heat up the kitchen. My family especially loves bars – salad bars, potato bars, and any kind of bar where everyone can build their own dish. I supply the entree and lots of fixings and toppings so everyone can build their meal to their liking. A family favorite are Hawaiian Haystacks, and even better are Instant Pot Hawaiian Haystacks, because it doesn't heat up the kitchen and it's super easy to make.
Typical Hawaiian Haystacks are made with rice as the base, but I've found an excellent veggie sneak where you can substitute the rice for Birds Eye Steamfresh Veggie Made™ Riced Cauliflower. You can use Original, Roasted Garlic, Savory Herb, or Italian Cheese, and they would all work great for the haystacks.
The fantastic thing about the new Veggie Made products is you can get the cauliflower riced or mashed – and both would be equally tasty with this Instant Pot recipe. It just depends on the texture you desire. Birds Eye, the number one brand in frozen vegetables, is continuing its mission to introduce new ways to help more families eat more vegetables, more often. Lucky for us!
Use your Instant Pot to cook the Hawaiian bbq chicken, and rather than dirty more pots and pans, and heat up the kitchen, you can heat up the Birds Eye Steamfresh Veggie Made™ Riced Cauliflower in the microwave. Get a full serving of vegetables with no artificial ingredients. It's quick, easy and gives you a more nutritious alternative to traditional comfort foods. Yum!
For the haystacks you can pick any topping you like, but here are some suggested favorites:
avocado
coconut
pineapple (but this Instant Pot Hawaiian Haystacks recipe cooked the pineapple with the chicken)
chopped bell peppers
tomatoes
chow mein noodles or crispy fried onions
olives
cheese
I suggest having numerous offerings so everyone can build their haystack to their liking. My kids often just choose the chicken, pineapple, olives and cheese, but I love adding some crunch and especially love the addition of avocado. With the great veggie sneak of cauliflower for rice, you get tons of great vegetables in this dish, and it's loved by everyone!
So you can try the new Veggie Made products, I'm giving away a Birds Eye Prize Pack complete with hot pad, measuring spoons and VIP free product coupons! Just scroll past the recipe to enter. Giveaway will end at 11:59pm on 8/24.
Instant Pot Hawaiian Haystacks
2017-08-10 16:35:47
Serves 6
Ingredients
2 lbs boneless, skinless chicken breasts, thawed
16 oz barbecue sauce
1 20 oz can pineapple chunks
2 bags Birds Eye Steamfresh Veggie Made Riced Caulifower
1 avocado, chopped
2 tomatoes, diced
1 bell pepper (any color), chopped
1 cup shredded cheese
1/2 cup crispy fried onions or chow mein noodles
1/2 cup shredded coconut (optional)
1 (2.25 oz) can sliced olives (optional)
Instructions
Empty entire bottle of barbecue sauce in the bottom of the Instant Pot. Place chicken on top of sauce. Add about a quarter cup of water to the now empty bottle of barbecue sauce, and shake to get any remaining sauce off the sides of the bottle. Pour over the chicken.
Dump entire can of pineapple, juice and all, over the chicken. Put the lid on the Instant Pot and cook on manual for 15 minutes, then use the quick release. Shred chicken with two forks, and leave in the sauce.
While chicken is cooking, cook the riced cauliflower in the microwave, then place in a bowl.
Dish up riced cauliflower into individual bowls and top with shredded chicken and pineapple, and desired toppings.
Store leftovers in an airtight container, in the refrigerator.
Clever Housewife https://cleverhousewife.com/