Getting my kids to eat enough veggies seems to be a never-ending battle. I feel as though the task was easier when my kids were little. Now that they're growing head-strong individuals, it takes a little more creativity to get the vegetables in my kiddos. I've discovered a quick and easy dinner with Veggie Made Pasta, and your kids won't even know they're eating veggies!
Birds Eye is all about swapping the good stuff, and their new Steamfresh Veggie Made Pasta makes it a breeze. Think delicious tasting pasta, but you get the benefits of vegetables, and it comes in a convenient microwavable package! Dinner + veggies, in just a few minutes!! This is every busy mom's dream.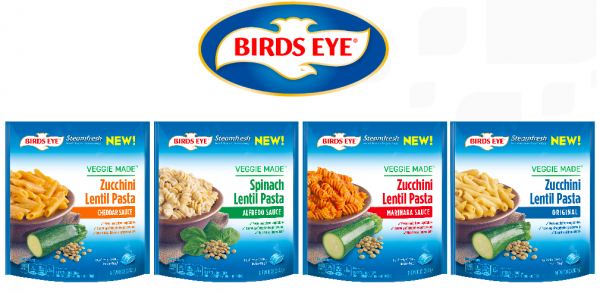 Birds Eye's Veggie Made Pasta comes in several varieties – original, or with sauces like marinara, cheddar and alfredo. In addition to getting your veggies in, these pastas are great for those trying to cut back on carbs or wheat. Instead of wheat flour, the pastas are made from zucchini or spinach, plus lentil flour, water and egg whites. Pretty clean ingredients right? Now, while the pastas are gluten free, they're not made in a gluten free facility – so something to keep in mind.
For our quick and easy dinner on one of our busiest nights this week, I opted for the Zucchini Lentil Pasta – Original, and made a simple warm butter sauce, and added some lean sausage for protein. Mmmm – and made in about 5 minutes! I just sliced up the sausage and quickly heated it through in a frying pan with olive oil. While that's cooking, place the Birds Eye Veggie Made pasta of your choice in the microwave, and cook according to directions on the package. I believe mine took about 2.5 minutes! Easy breezy!
To the original Zucchini Lentil Pasta, you can add any sauce of your choosing, or choose any of the other Veggie Made pastas, and the sauce heats up with the pasta! Birds Eye Veggie Made Pasta varieties are available at most major retailers nationwide and cost about $3.49 each! Give them a try when you have a busy night, or just need to get your kids to eat more veggies!