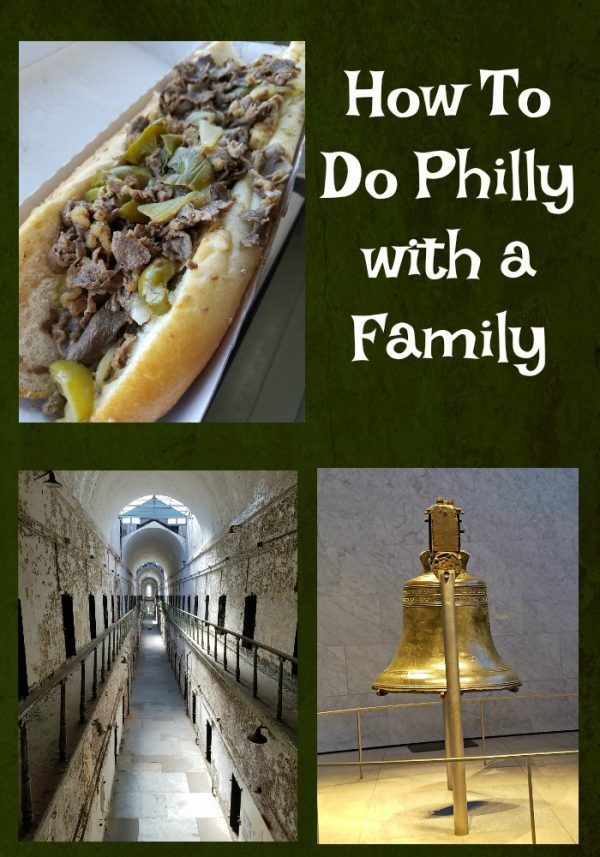 Last useumonth our family got to take an epic trip back east, beginning in Philadelphia. I've traveled quite a bit, but I'm excited to say each state we visited on this trip was a first for me, as well as our kids. We got to learn a little American history, as well as have a great time together. We had a day and a half to play, and filled it with fun. Here are my thoughts on how to do Philly with a family.
Let me begin by saying I have a 13 year old boy, 12 year old twin boys (well, 12 next week), and an 8 year old girl. My kids aren't huge on museums, so with that in mind, we came up with this perfect itinerary. I'd recommend a full 2 days in Philly, to see all of the important/cool sites. Our time was cut just a tad short, limiting our time inside the Franklin Institute.
With a full day to play, we opted to see the city via Big Bus Tours. We didn't have a car in the city, and with Big Bus Tours, this was made completely possible. A Hop-on Hop-off Bus is the way to go, and you'll save on a rental car. They made a stop at every destination we had on our itinerary! We never had to wait long for a bus to come, and the tour guides did a fantastic job (more than I can say for the ones in DC).
For some American History, one needs to see the Liberty Bell. Keep in mind this is free to see, but they do close at 5pm. After hours the bell can only be seen from the outside, which would be okay, but the famous crack isn't visible from outside. Google had false hours posted, so even though we made the trip over to see the bell, it was in fact closed.
In honor of my dad and the many Rocky movies I grew up on, and watched numerous times, we made a stop at the Rocky steps. These are outside the Philadelphia Museum of Art, so feel free to step inside and behold the art while you're here. The kids had fun running up and down the steps, trying to recreate Rocky. I guess I need to show them the movies now.
One of my favorite stops was the Eastern State Penitentiary. This was once the most expensive and most famous prison in America. It also housed notorious criminals such as Al Capone and bank robber Willie Sutton. Walk around the prison with headsets on, and you can spend hours here if you wanted to. Tour cell after cell, and get actual stories of things that happened here. They also let artists take over cells and place their art or exhibit in them.
I found this place so extremely fascinating! During October, they hold one of the creepiest haunted houses in the penitentiary. The kids weren't up for it – hahaha! The kids really enjoyed having their own headsets and going at their own speed.
The kids' favorite stop (Keith's too) was the United States Mint. This stop is combined with the grave of Benjamin Franklin, which is right across the street. I've got to say, watching the entire process of how our coins are made was pretty awesome. The factory reminded me of the Jelly Belly Factory, but unfortunately they don't give samples at the end of this tour. 😉
The Franklin Institute is a great place for the kids to get hands-on and interactive with a museum. A very nice older gentleman taught the kids how to make paper, and even let them have a shot at it. The Terra Cotta Warriors display was in the process of getting set up so we just barely missed seeing those. The museum does get traveling exhibits, worth checking out. Our favorite room was the sports room, where we learned about speed and math + athletics. We had a lot of fun racing each other, practicing our swing, and seeing how high we could jump – with basketballs being the goal to reach. If we'd had more time, I would have loved to check out the Planetarium!
For lunch, I recommend stopping into Reading Terminal Market. This is akin to the most epic food court. Choose from a variety of Philly Cheeseteaks, or nearly every ethnic cuisine you can think of. Be prepared this place gets very busy, but it's really cool to walk through! Getting a table for a family of our size was tricky, but we watched and waited it out and managed to make it work. A cool experience for sure.
For one night we stayed in Rittenhouse Square which is a cute neighborhood, with lots of great places to eat. The second night, we stayed closer to Center City, which was great for walking to and from any of the bus stops. One place that isn't on the Big Bus Tours stops is Valley Forge. This is farther out of town so we stopped here after we picked up our rental car and headed out of town. We didn't spend a lot of time here, but you really could if you're interested in this part of history.
I was disappointed to learn Love Park is under major renovations, so the famous LOVE sign was being stored indoors somewhere. I'll have to return to Philadelphia just to snap a photo of the LOVE sign! We loved our time in Philly, and are so glad to add it to our list of cities we've visited as a family.